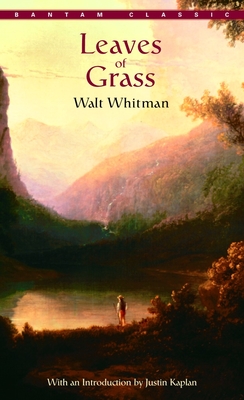 Leaves of Grass
Mass Market

* Individual store prices may vary.
Other Editions of This Title:
Paperback (9/9/2014)
Paperback (4/16/2016)
Paperback (1/20/2015)
Paperback (1/31/2012)
Paperback (10/22/2016)
Paperback (2/21/2014)
Paperback (6/30/2005)
Paperback (5/23/2016)
Paperback (7/3/2018)
Paperback (7/4/1855)
Paperback (9/17/2015)
Paperback (1/17/2017)
Paperback (1/13/2014)
Paperback (8/11/2011)
Paperback (1/31/2015)
Paperback (1/1/2011)
Paperback (1/1/2008)
Paperback (3/6/2009)
Paperback (3/27/2007)
Paperback (8/28/2014)
Description
One of the great innovative figures in American letters, Walt Whitman created a daringly new kind of poetry that became a major force in world literature. Leaves Of Grass is his one book.  First published in 1855 with only twelve poems, it was greeted by Ralph Waldo Emerson as "the wonderful gift . . . the most extraordinary piece of wit and wisdom that America has yet contributed."  Over the course of Whitman's life, the book reappeared in many versions, expanded and transformed as the author's experiences and the nation's history changed and grew.  Whitman's ambition was to creates something uniquely American.  In that he succeeded.  His poems have been woven into the very fabric of the American character.  From his solemn masterpieces "When Lilacs Last in the Dooryard Bloom'd" and "Out of the Cradle Endlessly Rocking" to the joyous freedom of "Song of Myself," "I Sing the Body Electric," and "Song of the Open Road," Whitman's work lives on, an inspiration to the poets of later generations.
Praise For Leaves of Grass…
"Whitman's best poems have that permanent quality of being freshly painted, of not being dulled by the varnish of the years."
--Malcolm Cowley
Bantam Classics, 9780553211160, 528pp.
Publication Date: June 1, 1983
About the Author
Before the age of thirty-six there was no sign that Walt Whitman would become even a minor literary figure, let alone the major poetic voice of an emerging America. Born in 1819 on Long Island, he was the second son of a carpenter and contractor. His formal schooling ended at age eleven, when he was apprenticed to a printer in Brooklyn. He became a journeyman printer in 1835 and spent the next two decades as a printer, free-lance writer, and editor in New York. In 1855, at his own expense, he published the twelve long poems, without titles, that make up the first edition of Leaves of Grass. The book, with its unprecedented mixture of the mystical and the earthy, was received with puzzlement or silence, except by America's most distinguished writer, Ralph Waldo Emerson. Whitman lost no time in preparing a second edition, adding "Crossing Brooklyn Ferry" and nineteen other new poems in 1856. With the third edition (1860), the book had tripled in size. Whitman would go on adding to it and revising it for the rest of his life. Whitman's poetry slowly achieved a wide readership in America and in England. He was praised by Swinburne and Tennyson, and visited by Oscar Wilde. He suffered a stroke in 1873 and spent the remainder of his life in Camden, New Jersey. His final edition of Leaves of Grass appeared in 1892, the year of his death.