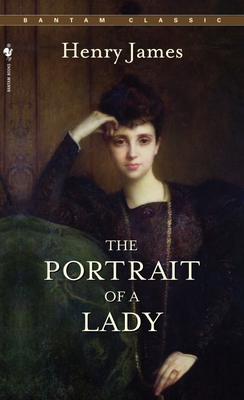 The Portrait of a Lady (Mass Market Paperbound)
Bantam Classics, 9780553211276, 539pp.
Publication Date: October 1, 1983
* Individual store prices may vary.
or
Not Currently Available for Direct Purchase
Description
Capturing the grandeur of a gracious, splendid Europe of wealth and Old World sensibilities, this glorious, complex novel has become a touchstone for a great writer's entire literary achievement. From the opening pages, when the high-spirited American girl Isabel Archer arrives at the English manor Gardencourt, James's luminous, superbly crafted prose creates an atmosphere of intensity, expectation, and incomparable beauty. Isabel, who has been taken abroad by an eccentric aunt to fulfill her potential, attracts the passions of a British aristocrat and a brash American, as well as the secret adoration of her invalid cousin, Ralph Touchett. But her vulnerability and innocence lead her not to love but to a fatal entrapment in intrigue, deception, and betrayal. This brilliant interior drama of the forming of a woman's consciousness makes The Portrait of a Lady a masterpiece of James's middle years.
About the Author
Henry James was born on April 15, 1843, on Washington Place in New York to the most intellectually remarkable of American families. His father, Henry Jane Sr., was a brilliant and eccentric religious philosopher; his brother was the first great American psychologists and the author of the influential Pragmatism; his sister, Alice, though an invalid for most of her life, was a talented conversationalist, a lively letter writer, and a witty observer of the art and politics of her time. In search of the proper education for his children, Henry senior sent them to schools in America, France, Germany, and Switzerland. Returning to America, Henry junior lived in Newport, briefly attended Harvard Law School, and in 1864 began contributing stories and book reviews to magazines. Two more trips to Europe led to his final decision to settle there, first in Paris in 1875, then in London next year. James's first major novel, Roderick Hudson, appeared in 1875, but it was "Daisy Miller" (1878) that brought him international fame as the chronicler of American expatriates and their European adventures. His novels include The American (1877), Washington Square (1880), Princess Casamassia (1886), and the three late masterpieces, The Wings of the Dove (1902), The Ambassadors (1903) and The Garden Bowl (1904). He also wrote plays, criticism, autobiography, travel books (including The American Scene, 1907) and some of the finest shot stories in the English language. His later works were little read during his lifetime but have since come to be recognized as forerunners of literary modernism. Upon the outbreak of World War I, James threw his energies into war relief work and decided to adopt British citizenship. One month before his death, in 1916, he received the Order of Merit from King George V.
Praise For The Portrait of a Lady…
"The Portrait of a Lady is entirely successful in giving one the sense of having met somebody far too radiantly good for this world."—Rebecca West
Advertisement