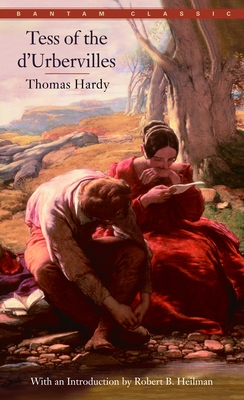 Tess of the d'Urbervilles (Mass Market Paperbound)
Bantam Books, 9780553211689, 448pp.
Publication Date: May 1, 1984
Description
Violated by one man, forsaken by another, Tess Durbeyfield is the magnificent and spirited heroine of Thomas Hardy's immortal work. Of all the great English novelists, no one writes more eloquently of tragic destiny than Hardy. With the innocent and powerless victim Tess, he creates profound sympathy for human frailty while passionately indicting the injustices of Victorian society. Scorned by outraged readers upon its publication in 1891, Tess of the d'Urbervilles is today one of the enduring classics of nineteenth-century literature.
About the Author
Thomas Hardy, whose writing immortalized the Wessex countryside and dramatized his sense of the inevitable tragedy of life, was born at Upper Bockhampton, near Stinsford in Dorset in 1840, the eldest child of a prosperous stonemason. As a youth he trained as an architect and in 1862 obtained a post in London. During his time he began seriously to write poetry, which remained his first literary love and his last. In 1867-68, his first novel was refused publication, but Under the Greenwood Tree (1872), his first Wessex novel, did well enough to convince him to continue writing. In 1874, Far from the Maddening Crowd, published serially and anonymously in the Cornhill Magazine, became a great success. Hardy married Emma Gifford in 1878, and in 1885 they settled at Max Gate in Dorchester, where he lived the rest of his life. There he had wrote The Return of the Native (1878), The Mayor of Casterbridge (1886), Tess of the d'Urbervilles (1891), and Jude the Obscure (1895). With Tess, Hardy clashed with the expectations of his audience; a storm of abuse broke over the "infidelity" and "obscenity" of this great novel he had subtitled "A Pure Woman Faithfully Presented." Jude the Obscure aroused even greater indignation and was denounced as pornography. Hardy's disgust at the reaction to Jude led him to announce in 1869 that he would never write fiction ever again. He published Wessex Poems in 1898, Poems of the Past and Present in 1901, and from 1903 to 1908, The Dynast, a huge drama in which Hardy's conception of the Immanent Will, implicit in the tragic novels, is most clearly stated. In 1912 Hardy's wife, Emma died. The marriage was childless and had been a troubled one, but in the years after her death, Hardy memorialized her in several poems. At seventy-four he married his longtime secretary, Florence Dugdale, herself a writer of children's books and articles, with whom he live happily until his death in 1928. His heart was buried in the Wessex Countryside; his ashes were placed next to Charles Dickens's in the Poet's Corner of Westminster Abbey.
Advertisement