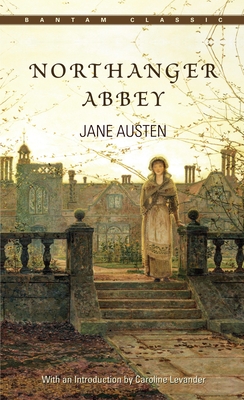 Northanger Abbey (Mass Market)
Bantam Classics, 9780553211979, 240pp.
Publication Date: September 1, 1985
Other Editions of This Title:
Paperback (3/30/2013)
Paperback (7/30/2008)
Paperback (7/30/2008)
Paperback (8/31/2013)
Paperback (8/10/2018)
Paperback (5/29/2019)
Paperback (3/10/2010)
Paperback (1/12/2005)
Paperback (9/20/2011)
Paperback (10/2/2015)
Paperback (7/31/2014)
Paperback (2/4/2009)
Paperback (10/18/2007)
Paperback (7/30/2008)
Paperback (5/12/2014)
Paperback (2/14/2019)
Paperback (6/6/2013)
* Individual store prices may vary.
Description
The earliest of her six major novels, NorthangerAbbey remained unpublished until after Jane Austen's death. A deliciously witty satire of popular Gothic romances, it is perhaps Austen's lightest, most delightful excursion into a young woman's world. Catherine Morland, an unlikely heroine—unlikely because she is so ordinary—forsakes her English village for the pleasures and perils of Bath. There, among a circle of Austen's wonderfully vain, dissembling, and fashionable characters, she meets a potential suitor, Henry Tilney. But with her imagination fueled by melodramatic novels, Catherine turns a visit to his home, Northanger Abbey, into a hunt for dark family secrets. The result is a series of hilarious social gaffes and harsh awakenings that for all of Austen's youthful exuberance nevertheless conveys her mature vision of literature and life—and the consequences of mistaking one for the other.
About the Author
Though the domain of Jane Austen's novels was as circumscribed as her life, her caustic wit and keen observation made her the equal of the greatest novelists in any language. Born the seventh child of the rector of Steventon, Hampshire, on December 16, 1775, she was educated mainly at home. At an early age she began writing sketches and satires of popular novels for her family's entertainment. As a clergyman's daughter from a well-connected family, she had an ample opportunity to study the habits of the middle class, the gentry, and the aristocracy. At twenty-one, she began a novel called "The First Impressions" an early version of Pride and Prejudice. In 1801, on her father's retirement, the family moved to the fashionable resort of Bath. Two years later she sold the first version of Northanger Abby to a London publisher, but the first of her novels to appear was Sense and Sensibility, published at her own expense in 1811. It was followed by Pride and Prejudice (1813), Mansfield Park (1814), and Emma (1815).

After her father died in 1805, the family first moved to Southampton then to Chawton Cottage in Hampshire. Despite this relative retirement, Jane Austen was still in touch with a wider world, mainly through her brothers; one had become a very rich country gentleman, another a London banker, and two were naval officers. Though her many novels were published anonymously, she had many early and devoted readers, among them the Prince Regent and Sir Walter Scott. In 1816, in declining health, Austen wrote Persuasion and revised Northanger Abby, Her last work, Sandition, was left unfinished at her death on July 18, 1817. She was buried in Winchester Cathedral. Austen's identity as an author was announced to the world posthumously by her brother Henry, who supervised the publication of Northanger Abby and Persuasion in 1818.
Praise For Northanger Abbey…
"Jane Austen is the Rosetta stone of literature." —Anna Quindlen
or
Not Currently Available for Direct Purchase