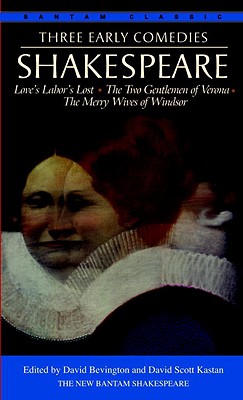 Three Early Comedies: Love's Labor's Lost, the Two Gentlemen of Verona, the Merry Wives of Windsor (Mass Market Paperbound)
Love's Labor's Lost, the Two Gentlemen of Verona, the Merry Wives of Windsor
Bantam Classics, 9780553212822, 560pp.
Publication Date: January 1, 1988
* Individual store prices may vary.
or
Not Currently Available for Direct Purchase
Description
Three Early Comedies

Love's Labor's Lost
Farce and fun follow when a young king and his three friends vow to give up women for a year--just as a pretty princess and her three ladies-in-waiting arrive--in a delightful play that ends with one of Shakespeare's loveliest songs.
The Two Gentlemen of Verona
In this lyrical comedy, two friends are infatuated with the same woman, while a jilted girl disguised as a boy and a clownish servant with a raffish mutt set the scene for laughter and a timeless story of love.

The Merry Wives of Windsor
Shakespeare's famous rogue, Falstaff, woos two married women with identical love letters--and becomes the focus of a hilarious comedy when the women conspire to teach him a lesson.
About the Author
William Shakespeare was born in Stratford-upon-Avon in April 1564, and his birth is traditionally celebrated on April 23. The facts of his life, known from surviving documents, are sparse. He was one of eight children born to John Shakespeare, a merchant of some standing in his community. William probably went to the King's New School in Stratford, but he had no university education. In November 1582, at the age of eighteen, he married Anne Hathaway, eight years his senior, who was pregnant with their first child, Susanna. She was born on May 26, 1583. Twins, a boy, Hamnet ( who would die at age eleven), and a girl, Judith, were born in 1585. By 1592 Shakespeare had gone to London working as an actor and already known as a playwright. A rival dramatist, Robert Greene, referred to him as "an upstart crow, beautified with our feathers." Shakespeare became a principal shareholder and playwright of the successful acting troupe, the Lord Chamberlain's Men (later under James I, called the King's Men). In 1599 the Lord Chamberlain's Men built and occupied the Globe Theater in Southwark near the Thames River. Here many of Shakespeare's plays were performed by the most famous actors of his time, including Richard Burbage, Will Kempe, and Robert Armin. In addition to his 37 plays, Shakespeare had a hand in others, including Sir Thomas More and The Two Noble Kinsmen, and he wrote poems, including Venus and Adonis and The Rape of Lucrece. His 154 sonnets were published, probably without his authorization, in 1609. In 1611 or 1612 he gave up his lodgings in London and devoted more and more time to retirement in Stratford, though he continued writing such plays as The Tempest and Henry VII until about 1613. He died on April 23 1616, and was buried in Holy Trinity Church, Stratford. No collected edition of his plays was published during his life-time, but in 1623 two members of his acting company, John Heminges and Henry Condell, put together the great collection now called the First Folio.
Advertisement