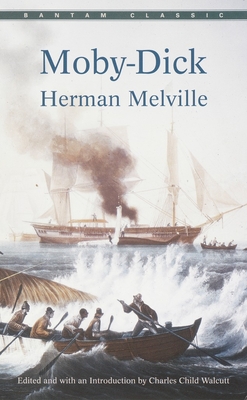 Moby-Dick (Mass Market)
Bantam Classics, 9780553213119, 704pp.
Publication Date: February 1, 1981
Other Editions of This Title:
Digital Audiobook (7/25/2016)
Digital Audiobook (3/28/2010)
Digital Audiobook (6/15/2005)
Paperback (11/11/2015)
Paperback (9/6/2018)
Paperback, Icelandic (1/6/2019)
Paperback (8/10/2015)
Paperback, Spanish (1/6/2019)
Paperback (10/8/2014)
Paperback (3/8/2012)
Paperback (2/14/2017)
Paperback (2/27/2017)
Paperback, Italian (9/14/2018)
Paperback (5/11/2015)
Paperback (8/26/2018)
Paperback (12/11/2015)
Paperback (10/2/2018)
Paperback (6/14/2017)
Paperback (5/31/2019)
Paperback (8/27/2018)
* Individual store prices may vary.
Description
Nominated as one of America's best-loved novels by PBS's The Great American Read

First published in 1851, Herman Melville's masterpiece is, in Elizabeth Hardwick's words, "the greatest novel in American literature." The saga of Captain Ahab and his monomaniacal pursuit of the white whale remains a peerless adventure story but one full of mythic grandeur, poetic majesty, and symbolic power. Filtered through the consciousness of the novel's narrator, Ishmael, Moby-Dick draws us into a universe full of fascinating characters and stories, from the noble cannibal Queequeg to the natural history of whales, while reaching existential depths that excite debate and contemplation to this day.
About the Author
Elizabeth Hardwick (1916–2007) is the author of many books and essays, including Herman Melville (Penguin Lives), American Fictions, and Seduction and Betrayal: Women and Literature.