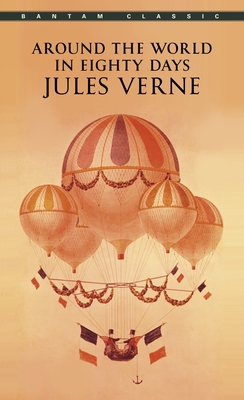 Around the World in Eighty Days (Mass Market Paperbound)
Bantam Books, 9780553213560, 163pp.
Publication Date: April 1, 1984
Description
Jules Verne Great excitement and awe greeted its publication in 1873, and today Around the World in Eighty Days remains Jules Verne's most successful novel. A daring wager by the eccentric and mysterious Englishman Phileas Fogg that he can circle the globe in just eighty days initiates this marvelous travelogue and exciting suspense story. Together with his manservant, Passepartout, Fogg makes a breathless world tour, overcoming wild misadventures and finding time to rescue a beautiful Indian maharani from a burning funeral pyre--all the while restlessly pursued by a bumbling detective called Mr. Fix. Realistically utilizing nearly every means of transportation known in the 1870s, Around the World in Eighty Days generated enchantment with scientific progress--and its delightful mixture of fantasy, comedy, and dazzling suspense has kept it a perennially superb entertainment.
About the Author
Jules Verne was born into a family with a seafaring tradition in Nantes, France in 1828. Verne was sent to Paris to study law, but once there, he quickly fell in love with the theater. He was soon writing plays and opera librettos, and his first play was produced in 1850. When he refused his father's entreaties to return to Nantes and practice law, his allowance was cut off, and he was forced to make his living by selling stories and articles. Soon he was turning out imaginative stories such as Five Weeks in a Balloon (1863), Journey to the Center of the Earth (1864), and From the Earth to the Moon (1865), which were immensely popular all over the world. His ability to envision the next stage in man's technological progress produced 20,000 Leagues Under the Sea (1870) and Michael Strogoff (1876). His biggest success came with Around the World in Eighty Days (1872). Verne's books made him famous and rich. In 1876, he bought a large steam yacht in which he could write more comfortably than on shore. His books were widely translated, dramatized, and later filmed. He died in Amiens in 1905.
Praise For Around the World in Eighty Days…
"The reason Verne is still read by millions today is simply that he was one of the best storytellers who ever lived."—Arthur C. Clarke
Advertisement