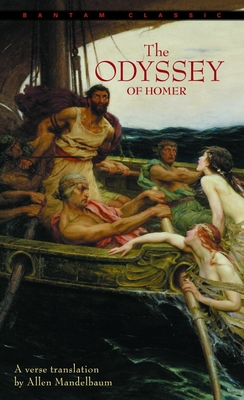 The Odyssey of Homer
Mass Market

* Individual store prices may vary.
Other Editions of This Title:
Digital Audiobook (12/31/2005)
Paperback (6/10/2019)
Paperback (1/19/2022)
Paperback (5/3/2011)
Hardcover (11/17/2009)
Hardcover (7/25/1991)
Hardcover (7/18/2009)
Paperback (2/14/2018)
Hardcover (4/4/2010)
Paperback (8/5/2010)
Compact Disc (7/1/2012)
Paperback (8/28/2010)
Paperback (8/8/2010)
Paperback (8/29/2010)
Paperback (10/6/2011)
Paperback (3/27/2012)
Description
Homer's epic chronicle of the Greek hero Odysseus' journey home from the Trojan War has inspired  writers from Virgil to James Joyce. Odysseus  survives storm and shipwreck, the cave of the Cyclops  and the isle of Circe, the lure of the Sirens' song  and a trip to the Underworld, only to find his  most difficult challenge at home, where treacherous  suitors seek to steal his kingdom and his loyal  wife, Penelope. Favorite of the gods, Odysseus  embodies the energy, intellect, and resourcefulness  that were of highest value to the ancients and that  remain ideals in out time.

In this  new verse translation, Allen  Mandelbaum--celebrated poet and translator of Virgil's  Aeneid and Dante's Divine Comedy  --realizes the power and beauty of the original  Greek verse and demonstrates why the epic tale of  The Odyssey has captured the human  imagination for nearly three thousand  years.
Praise For The Odyssey of Homer…
"A splendid achievement outstripping all  competitors."--Anthony A. Long, author of  Hellenistic Philosophy

"With real poetic power...his book is  one no lover of living poetry should  miss."--The New York Times Book Review  
Bantam Classics, 9780553213997, 560pp.
Publication Date: September 1, 1991
About the Author
Homer was a Greek poet, recognized as the author of the great epics, the Iliad, the story of the siege of Troy, and the Odyssey, the tale of Ulysses's wanderings.

Allen Mandelbaum was born in 1926 and died in 2011. His translations of Homer, Dante, Virgil, Quasimodo, and Ungaretti were all published to great acclaim. His rendering of The Aeneid won the National Book Award. He was the William R. Kenan Jr. Professor of Humanities at Wake Forest University, North Carolina.