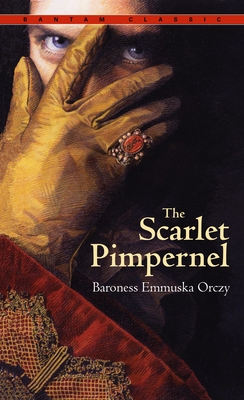 The Scarlet Pimpernel (Mass Market)
Bantam Classics, 9780553214024, 320pp.
Publication Date: March 1, 1992
Other Editions of This Title:
Paperback (1/7/2014)
Paperback (5/16/2019)
Paperback (12/1/2004)
Paperback (8/6/2019)
Paperback (10/21/2010)
Paperback (2/14/2017)
Hardcover (4/3/2018)
Mass Market (7/1/2004)
Paperback (8/24/2017)
Paperback (2/22/2017)
Paperback (8/13/2016)
* Individual store prices may vary.
Description
It is 1792 and France is in the grip of a seething, bloody revolution. Mobs roam the Paris streets hunting down royalists, barricades block any chance of escape, and every day hundreds die under the blade of Madame la Guillotine. But in the hearts of the condemned nobility there remains one last vestige of hope: rescue by the elusive Scarlet Pimpernel. Renowned for both his unparalleled bravery and his clever disguises, the Pimpernel's identity remains as much a mystery to his sworn enemy, the ruthless French agent Chauvelin, as to his devoted admirer, the beautiful Lady Marguerite Blakeney.

First published in 1905, The Scarlet Pimpernel is an irresistible novel of love, gallantry, and swashbuckling adventure.
About the Author
Baroness Emmuska Orczy artist, playwright, and author, was born in Tarnaörs, Hungary, in 1865. Although all her manuscripts were written in English, she did not learn the language until she and her parents, Baron Felix and Countess Emma Orczy, moved to London when she was fifteen. Schooled as a painter, she married fellow art student John Montagu Barstow in 1894. Although some of her paintings were accepted by the Royal Academy in London, the influence of the works of Dickens and Bret Harte, as well as newly popular light fiction from America, encouraged her to write. A prolific author, the Baroness penned dozens of romantic novels, detective stories, and plays, but is best remembered for The Scarlet Pimpernel. Based on an idea that came to her on a London underground platform, the story took just five weeks to write and become a huge success in print, on stage, and in film. Her other works include The Man in Grey, Skin O' My Tooth, The Laughing Cavalier, and Eldorado, a sequel to The Scarlet Pimpernel. Baroness Orczy died in London in 1947.
Praise For The Scarlet Pimpernel…
"Arguably the best adventure story ever published and certainly the most influential that appeared during the early decades of the twentieth century."—Gary Hoppenstand