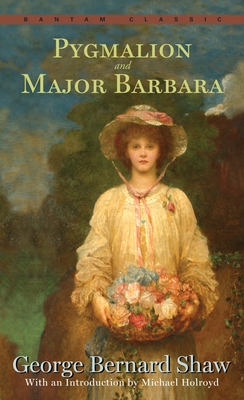 Pygmalion and Major Barbara (Mass Market Paperbound)
Bantam Classics, 9780553214086, 336pp.
Publication Date: July 1, 1992
Description
George Bernard Shaw was the greatest British dramatist after Shakespeare, a satirist equal to Jonathan Swift, and a playwright whose most profound gift was his ability to make audiences think by provoking them to laughter.
In one of his best-loved plays, Pygmalion, which later became the basis for the musical My Fair Lady, Shaw compels the audience to see the utter absurdity and hypocrisy of class distinction when Professor Henry Higgins wagers that he can transform a common flower girl into a lady--and then pass her off as a duchess--simply by changing her speech and manners.
In Major Barbara Shaw spins out the drama of an eccentric millionaire, a romantic poet, and a misguided savior of souls, Major Barbara herself, in a topsy-turvy masterpiece of sophisticated banter and urbane humor. His brilliant dialogue, combined with his use of paradox and socialist theory, never fails to tickle, entertain--and challenge.
About the Author
George Bernard Shaw (1856-1950) is one of the world's greatest literary figures. Born in Dublin, Ireland, he left school at fourteen and in 1876 went to London, where he began his literary career with a series of unsuccessful novels. In 1884 he became a founder of the Fabian Society, the famous British socialist organization. After becoming a reviewer and drama critic, he published a study of the Norwegian dramatist Henrik Ibsen in 1891 and became determined to create plays as he felt Ibsen did: to shake audiences out of their moral complacency and to attack social problems. However, Shaw was an irrepressible wit, and his plays are as entertaining as they are socially provocative. Basically shy, Shaw created a public persona for himself: G.B.S., a bearded eccentric, crusading social critic, antivivisectionist, language reformer, strict vegetarian, and renowned public speaker. The author of fifty-three plays, hundreds of essays, reviews, and letters, and several books, Shaw is best known for Widowers' Houses (1892), Mrs. Warren's Profession (1893), Arms and the Man (1894), Caesar and Cleopatra (1898), Man and Superman (1903), Major Barbara (1905), Pygmalion (1913), Heartbreak House (1919), and Saint Joan (1923). He was awarded the Nobel Prize for Literature in 1925.
Advertisement