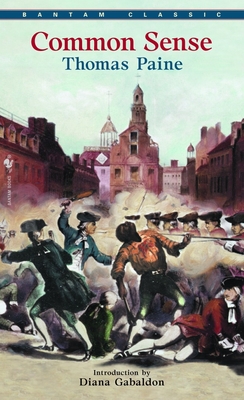 Common Sense (Mass Market Paperbound)
Bantam Classics, 9780553214659, 112pp.
Publication Date: February 3, 2004
Description
In 1776, America was a hotbed of enlightenment and revolution. Thomas Paine not only spurred his fellow Americans to action but soon came to symbolize the spirit of the Revolution. His elegantly persuasive pieces spoke to the hearts and minds of those fighting for freedom. He was later outlawed in Britain, jailed in France, and finally labeled an atheist upon his return to America. "No writer has exceeded Paine in ease and familiarity of style; in perspicuity of expression, happiness of elucidation, and in simple unassuming language."--Thomas Jefferson.
About the Author
Thomas Paine was born in Norfolk, England, on January 29, 1737. He received a basic education in history, mathematics, and science, but left school at age 13 to apprentice in his father's corsetmaking shop. In 1757, he spent time at sea aboard the privateer ship King of Prussia, and later found employment as a journeyman staymaker in London. All the while, Paine continued to study on his own, influenced by the work of two leading figures of the Enlightenment, Isaac Newton and John Locke. He began writing political pamphlets, and at the urging of Benjamin Franklin, emigrated to Philadelphia in 1774 to work as an editor for The Pennsylvania Magazine. In 1776, he published Common Sense, which called for America's political freedom from England. The pamphlet sold more than 150,000 copies in three months. Paine next published The American Crisis during the Revolutionary War, inspiring George Washington to read it to his troops at Valley Forge. By the end of the Revolution, however, Paine's influence had run its course, and he fell out of political favor. He returned to Europe, where he published his treatise Rights of Man, which led to his arrest on charges of high treason. Disillusioned with life abroad, he returned to the U.S. to find himself vilifed as an agitator and atheist. He died in obscurity in New York City in 1809. Diana Gabaldon is the #1 New York Times bestselling author of the wildly popular Outlander novels--Outlander, Dragonfly in Amber, Voyager, Drums of Autumn, The Fiery Cross, A Breath of Snow and Ashes (for which she won a Quill Award and the Corine International Book Prize), An Echo in the Bone, and Written in My Own Heart's Blood--as well as a collection of Outlander fiction, Seven Stones to Stand or Fall; the related Lord John Grey books Lord John and the Private Matter, Lord John and the Brotherhood of the Blade, Lord John and the Hand of Devils, and The Scottish Prisoner; two works of nonfiction, The Outlandish Companion, Volumes 1 and 2; the Outlander graphic novel, The Exile; and The Official Outlander Coloring Book. She lives in Scottsdale, Arizona, with her husband.
Praise For Common Sense…
"No writer has exceeded Paine in ease and familiarity of style; in perspicuity of expression, happiness of elucidation, and in simple unassuming language." —Thomas Jefferson
Advertisement