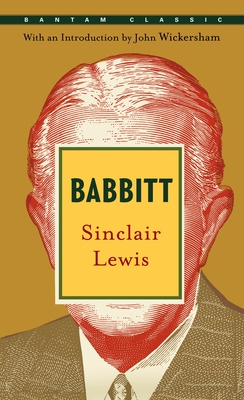 Babbitt (Mass Market Paperbound)
Bantam Classics, 9780553214864, 464pp.
Publication Date: September 1, 1998
Description
When Babbitt was first published in 1922, fans gleefully hailed its scathing portrait of a crass, materialistic nation; critics denounced it as an unfair skewering of the American businessman. Sparking heated literary debate, Babbitt became a controversial classic, securing Sinclair Lewis's place as one of America's preeminent social commentators. Businessman George F. Babbitt loves the latest appliances, brand names, and the Republican Party. In fact, he loves being a solid citizen even more than he loves his wife. But Babbitt comes to resent the middle-class trappings he has worked so hard to acquire. Realizing that his life is devoid of meaning, he grows determined to transcend his trivial existence and search for greater purpose. Raising thought-provoking questions while yielding hilarious consequences, and just as relevant today as ever, Babbitt's quest for meaning forces us to confront the Babbitt in ourselves--and ponder what it truly means to be an American.
About the Author
Sinclair Lewis (1885-1951) won the Nobel Prize for literature in 1930, the first American novelist to be so honored. He was born in Sauk Centre, Minnesota, the son of a doctor. After an extremely unhappy childhood, he went to Yale but left before graduation to work in Upton Sinclair's socialist colony at Helicon Hall in Englewood, New Jersey. Unable to make a living as a freelance writer, he returned to Yale and graduated in 1908. In 1914 he published his first novel, Our Mr. Wrenn: The Romantic Adventures of a Gentle Man. But it was not until his sixth novel, Main Street (1920), that he won recognition as an important American novelist, the first to challenge the myth of the happy quintessentially American small town. His major works are Babbitt (1922), Arrowsmith (1925), which won a Pulitzer Prize that Lewis refused to accept, Elmer Gantry (1927), Dodsworth (1929), and It Can't Happen Here (1935), which he also wrote as a play in 1936. Married and divorced twice, the second time to pioneering newspaperwoman Dorothy Thompson, Lewis was a prolific writer, publishing dozens of books and innumerable articles throughout his career. He died alone in Rome on January 10, 1951, and his ashes were returned to Sauk Centre, the "Main Street" he'd rejected so many decades before but which in death took him back as its own.
Praise For Babbitt…
"[It is] by its hardness, its efficiency, its compactness that Mr. Lewis's work excels."—Virginia Woolf
Advertisement