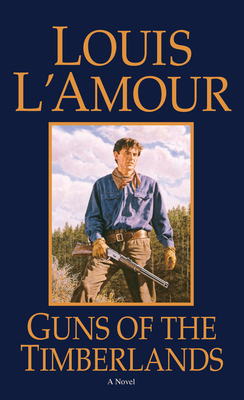 Guns of the Timberlands (Mass Market Paperbound)
Bantam, 9780553247657, 224pp.
Publication Date: June 1, 1984
Description
Clay Bell spent the last six years fighting Indians, rustlers, and the wilderness itself to make the B-Bar ranch the prize of the Deep Creek Range. But Jud Devitt, a ruthless speculator from the East, now threatens everything Clay has worked for. Devitt, holding a contract with the Mexican Central to deliver railroad ties, wants to harvest timber off the land where Clay grazes his cattle. Backing Devitt are shady politicians, a dishonest banker, and fifty of the toughest lumberjacks in the county. But as Colleen Riley, Devitt's fiancee, realizes the brutal game he's playing, her disapproval of his actions, and Clay Bell's obvious integrity and charm, pull her toward a destiny that will tip the scales in their bloody battle over timber and cattle.
About the Author
Louis L'Amour is undoubtedly the bestselling frontier novelist of all time. He is the only author in history to receive both the Presidential Medal of Freedom, and the Congressional Gold Medal in honor of his life's work. He has published ninety novels; twenty-seven short-story collections; two works of nonfiction; a memoir, Education of a Wandering Man; and a volume of poetry, Smoke from This Altar. There are more than 300 million copies of his books in print worldwide.
Advertisement