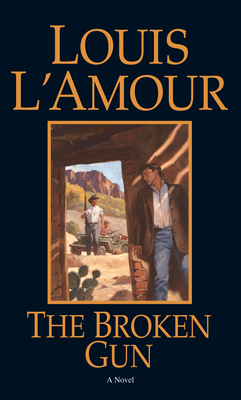 The Broken Gun (Mass Market Paperbound)
Bantam, 9780553248470, 192pp.
Publication Date: August 1, 1984
Description
Ninety years ago the Toomey brothers, along with twenty-five other men and four thousand head of cattle, vanished en route to Arizona. When writer and historian Dan Sheridan is invited to the missing brothers' ranch by its current owner, he jumps at the chance. The visit fits right in with his plan to solve the century-old mystery--but it turns out that his host isn't a fan of books, writers, or people who don't mind their own business. Soon Dan is living the dangers of the Old West firsthand--tracked through the savage wilderness by vicious killers straight out of the most violent pages of his stories. However, his enemies have made one serious mistake: Sheridan is no pencil-pushing greenhorn, and killing him won't be as easy as they think. Our foremost storyteller of the authentic West, L'Amour has thrilled a nation by chronicling the adventures of the brave men and women who settled the American frontier. There are more than 300 million copies of his books in print around the world.
About the Author
Louis L'Amour is undoubtedly the bestselling frontier novelist of all time. He is the only American-born author in history to receive both the Presidential Medal of Freedom, and the Congressional Gold Medal in honor of his life's work. He has published ninety novels; twenty-seven short-story collections; two works of nonfiction; a memoir, Education of a Wandering Man; and a volume of poetry, Smoke from This Altar. There are more than 300 million copies of his books in print worldwide.
Advertisement