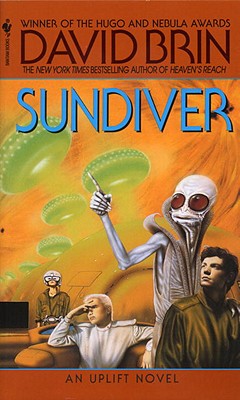 Sundiver (Uplift #1) (Paperback)
Spectra, 9780553269826, 352pp.
Publication Date: January 1, 1985
* Individual store prices may vary.
Description
"The Uplift books are as compulsive reading as anything ever published in the genre."—The Encyclopedia of Science Fiction

In all the universe, no species has ever reached for the stars without the guidance of a patron—except perhaps mankind. Did some mysterious race begin the uplift of humanity aeons ago? And if so, why did they abandon us? Circling the sun, under the caverns of Mercury, Expedition Sundiver prepares for the most momentous voyage in our history. A journey into the boiling inferno of the sun . . . to seek our destiny in the cosmic order of life.

David Brin's Uplift novels are among the most thrilling and extraordinary science fiction ever written. Sundiver, Startide Rising, and The Uplift War—a New York Times bestseller—together make up one of the most beloved sagas of all time. Brin's tales are set in a future universe in which no species can reach sentience without being "uplifted" by a patron race. But the greatest mystery of all remains unsolved. . . .

"Superb"—Science Fiction Times
About the Author
David Brin is a scientist and the bestselling author of Sundiver, The Uplift War, Startide Rising, The Practice Effect, The Postman, Heart of the Comet (with Gregory Benford), Earth, Glory Season, Brightness Reef, and Infinity's Shore, as well as the short-story collections The River of Time and Otherness. He has a doctorate in astrophysics and has been a NASA consultant and a physics professor.
or
Not Currently Available for Direct Purchase