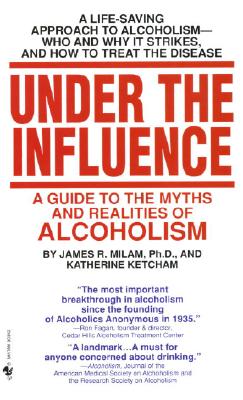 Under the Influence (Mass Market)
A Guide to the Myths and Realities of Alcoholism
Bantam, 9780553274875, 256pp.
Publication Date: June 1, 1984
* Individual store prices may vary.
Description
Ten of millions Americans suffer from alcoholism, yet most people still wrongly believe that alcoholism is a psychological or moral problem, and that it can be cured by psychotherapy or sheer will power. Based on groundbreaking scientific research, Under The Influence examine the physical factors that set alcoholics and non-alcoholics apart, and suggests a bold, stigma-free way of understanding and treating the alcoholic.

How to tell if someone you know is an alcoholic.

The progressive stages of alcoholism.

How to get an alcoholic into treatment—and how to choose a treatment program.

Why frequently prescribed drugs can be dangerous—even fatal—for alcoholics.

How to ensure a lasting recovery.

Praise for Under the Influence

"The most important breakthrough in alcoholism since the founding of Alcoholics Anonymous in 1935."—Ron Fagan, founder & director, Ceder Hills Alcoholism Treatment Center

"A landmark . . . A must for anyone concerned about drinking."—Alcoholism, Journal of the American Medical Society on Alcoholism and the Research Society on Alcoholism

"Vital, simple, world-changing information."—Co-Evolution Quarterly 

"Under The Influence will advance by light years the understanding of alcoholism and the recovery process."—Mel Schulstad, Cofounder, National Association of Alcoholism Counselors 


About the Author
Katherine Ketcham has been writing nonfiction books for forty years. Her work has been published in sixteen foreign languages and has sold nearly one million copies. She founded and serves on the board of a grassroots nonprofit organization called Trilogy Recovery Community, which helps youth and their family members dealing with alcohol and other drug problems. Ketcham lives in Walla Walla, Washington.
Praise For Under the Influence: A Guide to the Myths and Realities of Alcoholism…
"The most important breakthrough in alcoholism since the founding of Alcoholics Anonymous in 1935."—Ron Fagan, founder & director, Ceder Hills Alcoholism Treatment Center

"A landmark . . . A must for anyone concerned about drinking."—Alcoholism, Journal of the American Medical Society on Alcoholism and the Research Society on Alcoholism

"Vital, simple, world-changing information."—Co-Evolution Quarterly

"Under The Influence will advance by light years the understanding of alcoholism and the recovery process."—Mel Schulstad, Cofounder, National Association of Alcoholism Counselors