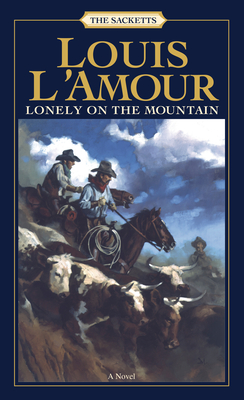 Lonely on the Mountain: The Sacketts (Mass Market Paperbound)
The Sacketts
Bantam, 9780553276787, 224pp.
Publication Date: September 1, 1984
Description
In Lonely on the Mountain, Louis L'Amour's solitary wandering Sackett brothers make a stand together--to save one of their own. The rare letters Tell Sackett received always had trouble inside. And the terse note from his cousin Logan is no exception. Logan faces starvation or a hanging if Tell can't drive a herd of cattle from Kansas to British Columbia before winter. To get to Logan, he must brave prairie fires, buffalo stampedes, and Sioux war parties. But worse trouble waits, for a mysterious enemy shadows Sackett's every move across the Dakotas and the Canadian Rockies. Tell Sackett has never abandoned another Sackett in need. He will bring aid to Logan--or die trying.
About the Author
Louis L'Amour is the only American-born novelist in history to receive both the Presidential Medal of Freedom and the Congressional Gold Medal. He published ninety novels, thirty short-story collections, two works of nonfiction, a memoir, Education of a Wandering Man, and a volume of poetry, Smoke from This Altar. There are more than 300 million copies of his books in print.
Advertisement