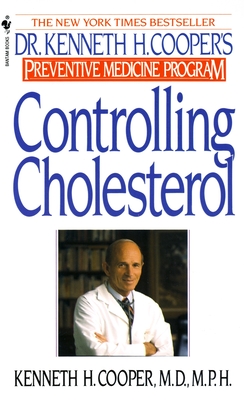 Controlling Cholesterol: Dr. Kenneth H. Cooper's Preventative Medicine Program (Mass Market Paperbound)
Dr. Kenneth H. Cooper's Preventative Medicine Program
Bantam, 9780553277753, 416pp.
Publication Date: January 1, 1989
* Individual store prices may vary.
or
Not Currently Available for Direct Purchase
Description
This first and only authoritative mass market bestseller on cholesterol contains the most up-to-date, medically sound information on diet, nutrition, exercise and lifestyle--and their impact on coronary problems. Includes the latest information on determining a coronary risk profile, an all-new exercise program, low-cholesterol recipes and more.

About the Author
Kenneth H. Cooper, MD, MPH, is recognized internationally as the "father of aerobics" and is the leading spokesman for the preventative medicine movement. A graduate of the University of Oklahoma School of Medicine and the Harvard University School of Public Health, he introduced the term aerobics to the world with his bestseller Aerobics. Soon after publication of this major work, he founded the Cooper Clinic, the Cooper Aerobics Center, and the Cooper Institute for Aerobics Research in Dallas. During his career, Dr. Cooper has authored many books, which have sold more than 30 million copies, including The Aerobics Program for Total Well-Being, Aerobics for Women (with Mildred Cooper), The Antioxidant Revolution, Preventing Osteoporosis, Overcoming Hypertension, Kid Fitness, and Controlling Cholesterol.
Advertisement