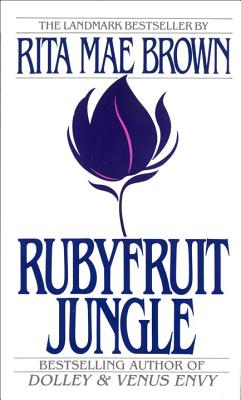 Rubyfruit Jungle (Mass Market Paperbound)
Bantam, 9780553278866, 256pp.
Publication Date: April 1, 1983
Other Editions of This Title:
Mass Market Paperback (4/1/1983)
* Individual store prices may vary.
Description
Rubyfruit Jungle is the first milestone novel in the extraordinary career of one of this country's most distinctive writers. Bawdy and moving, the ultimate word-of-mouth bestseller, Rubyfruit Jungle is about growing up a lesbian in America and living happily ever after.
Born a bastard, Molly Bolt is adopted by a dirt-poor Southern couple who want something better for their daughter. Molly plays doctor with the boys, beats up Leroy the tub and loses her virginity to her girlfriend in sixth grade.
As she grows to realize she's different, Molly decides not to apologize for that. In no time she mesmerizes the head cheerleader of Ft. Lauderdale High and captivates a gorgeous bourbon-guzzling heiress.
But the world is not tolerant. Booted out of college for moral turpitude, an unrepentant, penniless Molly takes New York by storm, sending not a few female hearts aflutter with her startling beauty, crackling wit and fierce determination to become the greatest filmmaker that ever lived.
Critically acclaimed when first published, Rubyfruit Jungle has only grown in reputation as it has reached new generations of readers who respond to its feisty and inspiring heroine.
About the Author
Rita Mae Brown is the bestselling author of In Her Day, Six of One, Southern Discomfort, Sudden Death, High Hearts, Bingo,, Starting from Scratch: A Different Kind of Writers' Manual, Venus Envy, Dolley: A Novel of Dolley Madison in Love and War, Riding Shotgun, Rita Will: Memoir of a Literary Rabble-Rouser, Loose Lips and Outfoxed. She is co-author along with Sneaky Pie Brown of Wish You Were Here; Rest in Pieces; Murder at Monticello; Pay Dirt; Murder, She Meowed; Murder on the Prowl; and Claws and Effect. Rita Mae Brown is an Emmy-nominated screenwriter and a poet. She lives near Charlottesville, Virginia.
Praise For Rubyfruit Jungle…
"I found myself laughing hysterically, then sobbing uncontrollably just moments later. A powerful story ... A truly incredible book."
-- The Boston Globe

"Molly Bolt is a genuine descendant -- genuine female descendant -- of Huckleberry Finn. And Rita Mae Brown is, like Mark Twain, a serious writer who gets her messages across through laughter."
-- Donna E. Shalala, former Secretary of Health and Human Services
or
Not Currently Available for Direct Purchase