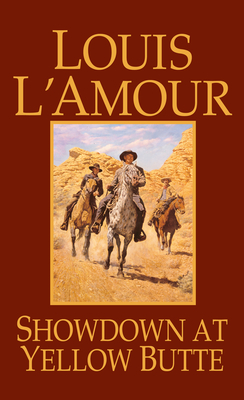 Showdown at Yellow Butte (Mass Market Paperbound)
Bantam Books, 9780553279931, 192pp.
Publication Date: February 11, 1997
Description
Tom Kedrick earned his stripes during the Civil War, fought Apaches, and even soldiered overseas. But in the high desert country of New Mexico, the battle-hardened Kedrick is entangled in a different kind of war, fueled by greed and deception. Hired by Alton Burwick to drive a pack of renegades and outlaws off the government land recently set aside for an Indian reservation, Kedrick begins to notice that things are not as they seem. As his suspicions grow, he realizes that he may be fighting on the wrong side of a land swindle. Disillusioned and outraged, Kedrick must take action against the very people who hired him-or be forced to witness the bloody massacre of innocent men and women.
About the Author
Louis L'Amour is undoubtedly the bestselling frontier novelist of all time. He is the only American-born author in history to receive both the Presidential Medal of Freedom, and the Congressional Gold Medal in honor of his life's work. He has published ninety novels; twenty-seven short-story collections; two works of nonfiction; a memoir, Education of a Wandering Man; and a volume of poetry, Smoke from This Altar. There are more than 300 million copies of his books in print worldwide.
Advertisement