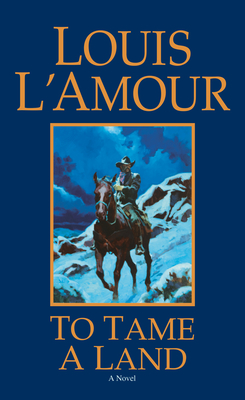 To Tame a Land (Mass Market Paperbound)
Bantam, 9780553280319, 176pp.
Publication Date: October 1, 1997
Description
Rye Tyler was twelve when his father was killed in an Indian raid. Taken in by a mysterious stranger with a taste for books and an instinct for survival, Rye is schooled in the hard lessons of life in the West. But after killing a man, he is forced to leave his new home. He rides lonely mountain passes and works on dusty cattle drives until he finds a job breaking horses. Then he meets Liza Hetrick, and in her eyes he sees his future. After establishing himself as marshal of Alta, he returns, only to discover that Liza has been kidnapped. Tracking her to Robbers' Roost, Rye is forced to face the man who taught him all he knows about books, guns, and friendship. Two old friends--one woman: Who will walk away?
About the Author
Louis L'Amour is undoubtedly the bestselling frontier novelist of all time. He is the only American-born author in history to receive both the Presidential Medal of Freedom, and the Congressional Gold Medal in honor of his life's work. He has published ninety novels; twenty-seven short-story collections; two works of nonfiction; a memoir, Education of a Wandering Man; and a volume of poetry, Smoke from This Altar. There are more than 300 million copies of his books in print worldwide.
Advertisement