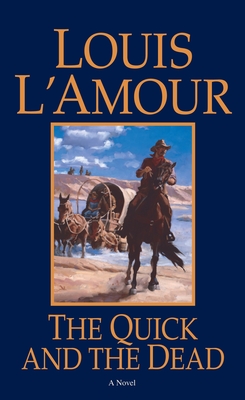 The Quick and the Dead (Mass Market Paperbound)
Bantam, 9780553280845, 160pp.
Publication Date: May 1, 1982
Description
When Duncan McKaskel decided to move his family west, he knew he would face dangers, and he was prepared for them. He knew about the exhausting terrain, and he was expecting the punishing elements. What he worried about was having to use violence against other men--men who would follow him and try to steal the riches that he didn't even possess. Yet bandits were only part of McKaskel's worries. For a mysterious stranger, Con Vallian, had appeared one night and saved his life. But was Vallian's true interest Duncan's wife, Susanna? And, more important, how did she feel about him? As they push on into the wilderness, Duncan must discover who is the greater threat--the thieves outside his camp or the enigmatic stranger within....
About the Author
Our foremost storyteller of the American West, Louis L'Amour has thrilled a nation by chronicling the adventures of the brave men and women who settled the frontier. There are more than 300 million copies of his books in print around the world.
Advertisement