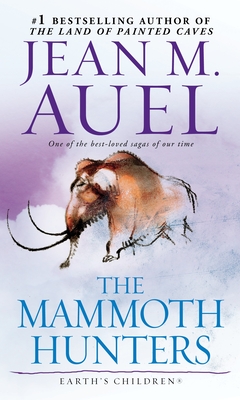 The Mammoth Hunters (Mass Market Paperbound)
Bantam, 9780553280944, 723pp.
Publication Date: November 1, 1986
Description
Once again Jean M. Auel opens the door of a time long past to reveal an age of wonder and danger at the dawn of the modern human race. With all the consummate storytelling artistry and vivid authenticity she brought to The Clan of the Cave Bear and its sequel, The Valley of Horses, Jean M. Auel continues the breathtaking epic journey of the woman called Ayla. Riding Whinney with Jondalar, the man she loves, and followed by the mare's colt, Ayla ventures into the land of the Mamutoi--The Mammoth Hunters. She has finally found the Others she has been seeking. Though Ayla must learn their different customs and language, she is adopted because of her remarkable hunting ability, singular healing skills, and uncanny fire-making technique. Bringing back the single pup of a lone wolf she has killed, Ayla shows the way she tames animals. She finds women friends and painful memories of the Clan she left behind, and meets Ranec, the dark-skinned, magnetic master carver of ivory, whom she cannot refuse--inciting Jondalar to a fierce jealousy that he tries to control by avoiding her. Unfamiliar with the ways of the Others, Ayla misunderstands, and thinking Jondalar no longer loves her, she turns more to Ranec. Throughout the icy winter the tension mounts, but warming weather will bring the great mammoth hunt and the mating rituals of the Summer Meeting, when Ayla must choose to remain with Ranec and the Mamutoi, or to follow Jondalar on a long journey into an unknown future.
About the Author
Jean M. Auel is an international phenomenon. Her Earth's Children(R) series has sold more than 45 million copies worldwide and includes The Clan of the Cave Bear, The Valley of Horses, The Mammoth Hunters, The Plains of Passage, The Shelters of Stone, and The Land of Painted Caves. Her extensive research has earned her the respect of archaeologists and anthropologists around the world. She has honorary degrees from four universities and was honored by the French government's Ministry of Culture with the medal of an "Officer in the Order of Arts and Letters." She lives with her husband, Ray, in Oregon.
Praise For The Mammoth Hunters…
"Lively and interesting."
--The Washington Post Book World

"Genuinely exciting."
--The Detroit News

Advertisement