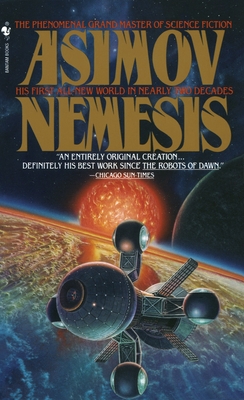 Nemesis (Mass Market Paperbound)
Spectra Books, 9780553286281, 400pp.
Publication Date: September 1, 1990
Description
In the twenty-third century pioneers have escaped the crowded earth for life in self-sustaining orbital colonies.One of the colonies, Rotor, has broken away from the solar system to create its own renegade utopia around an unknown red star two light-years from Earth: a star named Nemesis.Now a fifteen-year-old Rotorian girl has learned of the dire threat that nemesis poses to Earth's people--but she is prevented from warning them.Soon she will realize that Nemesis endangers Rotor as well.And so it will be up to her alone to save both Earth and Rotor as--drawn inexorably by Nemesis, the death star--they hurtle toward certain disaster.
About the Author
Isaac Asimov began his Foundation series at the age of twenty-one, not realizing that it would one day be considered a cornerstone of science fiction. During his legendary career, Asimov penned more than 470 books on subjects ranging from science to Shakespeare to history, though he was most loved for his award-winning science fiction sagas, which include the Robot, Empire, and Foundation series. Named a Grand Master of Science Fiction by the Science Fiction Writers of America, Asimov entertained and educated readers of all ages for close to five decades. He died, at the age of seventy-two, in April 1992.
Praise For Nemesis…
"A totally new and original work that stretches his talents to their fullest. . .welcome back, champ!"--The Detroit News
Advertisement