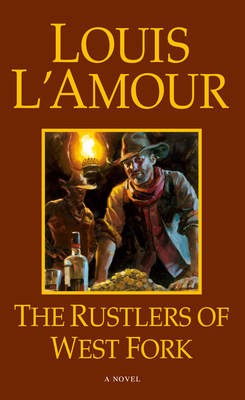 The Rustlers of the West Fork (Mass Market Paperbound)
Bantam, 9780553295399, 288pp.
Publication Date: April 1, 1992
Description
In this first of four classic frontier novels, Louis L'Amour adds his own special brand to the life and adventures of one of America's favorite fictional cowboys, Hopalong Cassidy. In The Rustlers of West Fork, the quick-thinking, fast-shooting cowpuncher heads west to deliver a fortune in bank notes to his old friend, Dick Jordan. When he arrives at the Circle J, he discovers that the rancher and his daughter, Pam, are being held prisoner by a desperate band of outlaws led by the ruthless Avery Sparr and his partner Arnold Soper. Even if Hopalong Cassidy can free Jordan and Pam, he will have to lead them across rough and untamed Apache country, stalked by the outlaws who have vowed to gun him down. But Hopalong is no stranger to trouble, and before his guns or his temper cool, he's determines to round up Sparr and his gang and bring the outlaws to justice ... dead or alive This classic tale of pursuit and survival is vintage L'Amour and adds new life and luster to the legend of Hopalong Cassidy.
About the Author
Louis L'Amour is undoubtedly the bestselling frontier novelist of all time. He is the only American-born author in history to receive both the Presidential Medal of Freedom, and the Congressional Gold Medal in honor of his life's work. He has published ninety novels; twenty-seven short-story collections; two works of nonfiction; a memoir, Education of a Wandering Man; and a volume of poetry, Smoke from This Altar. There are more than 300 million copies of his books in print worldwide.
Advertisement