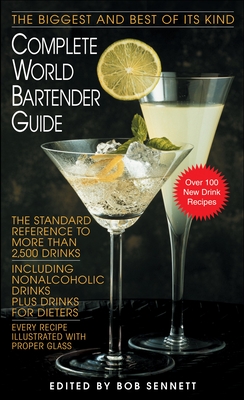 Complete World Bartender Guide: The Standard Reference to More Than 2,500 Drinks (Mass Market Paperbound)
The Standard Reference to More Than 2,500 Drinks
Bantam Books, 9780553299007, 544pp.
Publication Date: November 1, 1993
Description
The Biggest and Best if its Kind
The standard reference to more than 2,400 drinks Including nonalcoholic drinks
Plus drinks for dieters
Every recipe illustrated with proper glass
Learn how to create the perfect drink for every occasion

You don't need to take a mixology course to master the art of mixing drinks with style and confidence. All you need to know is in the Complete World Bartender Guide. From classic cocktails to little-known concoctions, this comprehensive reference contains easy-to-follow recipes for more than 2,400 drinks that will make you the toast of any party. This indispensable resource also includes: - Handy tips on setting up your bar and buying the right amount of liquor and supplies
- Illustrations of proper glassware next to each recipe
- Instructions for brewing beer
- Professional tricks and shortcuts
- Drinks for dieters
- More than 200 recipes for delicious nonalcoholic drinks
- Expert advice on selecting and serving wine
- And much more The ultimate bar-top reference

About the Author
Bob Sennett is also the author of The International Drinker's Companion.
Advertisement