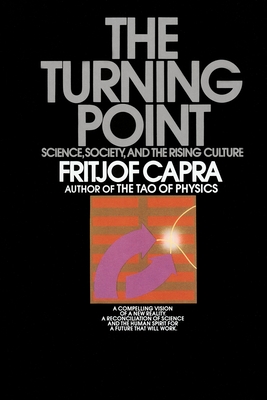 The Turning Point (Paperback)
Science, Society, and the Rising Culture
Bantam, 9780553345728, 464pp.
Publication Date: August 1, 1984
Other Editions of This Title:
Paperback (12/1/1983)
* Individual store prices may vary.
Description
A compelling vision of a new reality, a reconciliation of science and the human spirit for a future that will work

The dynamics underlying the major problems of our time—cancer, crime, pollution, nuclear power, inflation, the energy shortage—are all the same. We have reached a time of dramatic and potentially dangerous change, a turning point for the planet as a whole. We need a new vision of reality, one that allows the forces transforming our world to flow together as a positive movement for social change. Now distinguished scientist Fritjof Capra gives us that vision, a holistic paradigm of science and spirit.

"This splendid and thoughtful book is an essential guide for anyone inquiring about the place of science and metascience in our contemporary culture. Those who enjoyed Fritjof Capra's Tao of Physics should not expect a sequel; this is a much more ambitious book that attempts and succeeds in presenting a whole worldview from the viewpoint of a committed and experienced physicist who also writes from within the North American culture…. It is unusually detailed and thorough in its inclusion of the conventional and the alternative approaches to topics ranging from ecology through medicine and psychology to economics. It is at once scholarly and easy to read."—Jim Lovelock, New Scientist
About the Author
Fritjof Capra, PhD, physicist and systems theorist, is a founding director of the Center for Ecoliteracy in Berkeley, California. Capra is the author of several international bestsellers, including The Tao of Physics (1975), The Web of Life (1996), The Hidden Connections (2002), The Science of Leonardo (2007), and Learning from Leonardo (2013). He is a founding director of the Center for Ecoliteracy in Berkeley, California and has been the focus of television documentaries and magazine features. He lives in Berkeley, California.