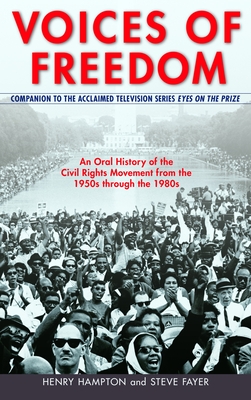 Voices of Freedom (Paperback)
An Oral History of the Civil Rights Movement from the 1950s Through the 1980s
Bantam, 9780553352320, 720pp.
Publication Date: February 1, 1991
* Individual store prices may vary.
Description
In this monumental volume, Henry Hampton, creator and executive producer of the acclaimed PBS series Eyes on the Prize, and Steve Fayer, series writer, draw upon nearly one thousand interviews with civil rights activists, politicians, reporters, Justice Department officials, and hundreds of ordinary people who took part in the struggle, weaving a fascinating narrative of the civil rights movement told by the people who lived it.

Join brave and terrified youngsters walking through a jeering mob and up the steps of Central High School in Little Rock. Listen to the vivid voices of the ordinary people who manned the barricades, the laborers, the students, the housewives without whom there would have been no civil rights movements at all.

This remarkable oral history brings to life country's great struggle for civil rights as no conventional narrative can. You will hear the voices of those who defied the blackjacks, who went to jail, who witnessed and policed the movement; of those who stood for and against it—voices from the heart of America.
About the Author
Henry Hampton, who died in 1998, was the creator and executive producer of Eyes on the Prize, one of more than 40 film projects he developed with his company Blackside, Inc., the largest African-American-owned film production company of its time. Hampton became one of the world's most respected documentary filmmakers as he chronicled the 20th century's great political and social movements, focusing on the lives of the poor and disenfranchised.

Steve Fayer was the series writer for Eyes on the Prize.
Praise For Voices of Freedom: An Oral History of the Civil Rights Movement from the 1950s Through the 1980s…
"Something much greater than the sum if its parts, a taut and vivid narrative on an epic scale--compelling--marvelously diverse.
— Los Angeles Times

"A vast choral pageant that recounts the momentous work of t he civil rights struggle."
— The New York Times Book Review

"Utterly fascinating. Voices of Freedom tells the greatest American story ever told. These voices are extraordinary. So is the book."
— Pat Conroy, author of The Prince of Tides

"Through the words of the victims, the villains, and the victorious, who together changed the course of America's sadly racist history. Voices of Freedom gives us the opportunity to glimpse the shining spirits of our heroic people, black and white, female and male, often through chuckles and often through tears."
—Alice Walker, author of The Color Purple