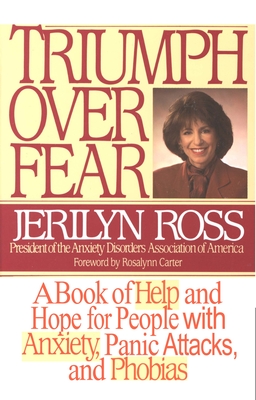 Triumph Over Fear (Paperback)
A Book of Help and Hope for People with Anxiety, Panic Attacks, and Phobias
Bantam, 9780553374445, 320pp.
Publication Date: April 1, 1995
* Individual store prices may vary.
Description
The National Institute of Mental  Health calls anxiety disorders the most common mental  health problem in America. They are also among the  most treatable. Yet tens of millions of people  struggle with hidden fears and restricted lives  because they have not received proper diagnosis and  treatment. Triumph Over Fear  combines Jerilyn Ross's firsthand account of  overcoming her own disabling phobia with inspiring case  histories of recovery from other forms of anxiety,  including panic disorder, obsessive-compulsive  disorder, and post-traumatic stress disorder; an  post-traumatic stress disorder. State-of-the-art  information is combined with powerful self-help  techniques, together with clear indications of when to seek  additional professional help and/or medication.  Also included is the latest research on anxiety  disorders in children, plus advice for dealing with  family members and  employers.
About the Author
Jerilyn Ross, MA, was one of the nation's leading experts on anxiety disorders and the author of One Less Thing to Worry About: Uncommon Wisdom for Coping with Common Anxieties. Ross received the 2004 Patient Advocacy Award from the American Psychiatric Association, the 2001 Anxiety Disorder Initiative Award from the World Council on Anxiety and the World Psychiatric Association, a 2000 Telly Award, and a 1994 Distinguished Humanitarian Award from the American Association of Applied and Preventive Psychology. She died in 2010.
Praise For Triumph Over Fear: A Book of Help and Hope for People with Anxiety, Panic Attacks, and Phobias…
"Filled with hope and wisdom, this unique book combines a compassionate understanding of the inner experience of panic with the latest in modern brain biology."--Robert L. DuPont, M.D., Georgetown University School of Medicine
or
Not Currently Available for Direct Purchase