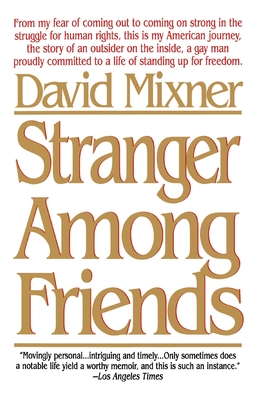 Stranger Among Friends (Paperback)
Bantam, 9780553375541, 384pp.
Publication Date: June 2, 1997
* Individual store prices may vary.
Description
"From my fear of coming out to coming on strong in the struggle for human rights, this is my American journey, the story of an outsider on the inside, a gay man proudly committed to a life of standing up for freedom.

"President Clinton and I were born three days apart.  We had both dreamed of serving our country.  There was one difference:  He could pursue his dream, while I felt I could not.  The President was born straight and I was born gay."

In this stirring personal history, one of America's most influential gay rights advocates recounts his extraordinary career as a policy maker and adviser to the major political leaders of our time, and his own often anguishing, ultimately triumphant life as a gay man.  A longtime personal friend of Bill Clinton, in Stranger Among Friends David Mixner offers an insider's look at the power struggles that occur every day in our nation's capital and candid insights on the Clinton administration's successes and failures.  Spanning three decades of human rights activism--from the behind-the-scenes negotiations to the painful betrayals to the hard-won victories--his forthright story unflinchingly explores what it means to be an outsider on the inside, and sends a message of hope to all who have ever stood up for what they believe.
About the Author
David Mixner, whom Newsweek once called "the most powerful gay man in America," has been an activist and a political strategist for decades. He is the author of the highly praised memoir Stranger Among Friends, as well as Brave Journeys: Profiles in Gay and Lesbian Courage and At Home with Myself: Stories from the Hills of Turkey Hollow.
Praise For Stranger Among Friends…
"Movingly personal...intriguing and timely...only sometimes does a notable life yield a worthy memoir, and this is such an instance....Stranger Among Friends is an optimist's book, the achievement of a doer."
--Los Angeles Times

"Rarely have one man's personal journey and a nation's political odyssey blended as powerfully....Simply one of the best political autobiographies of the year."
--Book-of-the-Month Club Views

"Impassioned....Poignantly told...[a] bittersweet political odyssey."
--Frank Rich, Op-Ed Page, The New York Times

"An intelligent and challenging biography of contemporary America...an epic that is partly David Mixner and partly his times, and future historians will be hard pressed to understand us without reading him."
--The New York Times Book Review