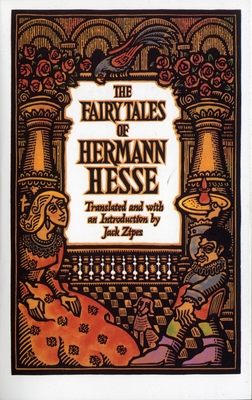 The Fairy Tales of Hermann Hesse (Paperback)
Bantam, 9780553377767, 304pp.
Publication Date: October 1, 1995
* Individual store prices may vary.
Description
Translated and with an introduction by Jack Zipes

A collection of twenty-two fairy tales by the Nobel Prize-winning novelist, most translated into English for the first time, show the influence of German Romanticism, psychoanalysis, and Eastern religion on his development as an author.

Praise for The Fairy Tales of Hermann Hesse

"Sometimes lush and lyrical, sometimes in the simple language of the parable, these tales elaborate Hesse's concerns with mortality, the unity of life and the isolation of the artist. . . . Quirky and evocative, Hesse's fairy tales stand alone, but also amplify the ideas and utopian longings of such counterculture avatars as Siddhartha and Steppenwolf."—Publishers Weekly

"Hesse unerringly creates the feel of a fairy tale. . . . Lay readers will enjoy this as much as literary specialists."—Library Journal
About the Author
Hermann Hesse was born in 1877 in Calw, Germany. He was the son and grandson of Protestant missionaries and was educated in religious schools until the age of thirteen, when he dropped out of school. At age eighteen he moved to Basel, Switzerland, to work as a bookseller and lived in Switzerland for most of his life. His early novels included Peter Camenzind (1904), Beneath the Wheel (1906), Gertrud (1910), and Rosshalde (1914). During this period Hesse married and had three sons. During World War I Hesse worked to supply German prisoners of war with reading materials and expressed his pacifist leanings in anti-war tracts and novels. Hesse's lifelong battles with depression drew him to study Freud during this period and, later, to undergo analysis with Jung. His first major literary success was the novel Demian (1919). When Hesse's first marriage ended, he moved to Montagnola, Switzerland, where he created his best-known works: Siddhartha (1922), Steppenwolf (1927), Narcissus and Goldmund (1930), Journey to the East (1932), and The Glass Bead Game (1943). Hesse won the Nobel Prize for Literature in 1946. He died in 1962 at the age of eighty-five.
Praise For The Fairy Tales of Hermann Hesse…
"Sometimes lush and lyrical, sometimes in the simple language of the parable, these tales elaborate Hesse's concerns with mortality, the unity of life and the isolation of the artist. . . . Quirky and evocative, Hesse's fairy tales stand alone, but also amplify the ideas and utopian longings of such counterculture avatars as Siddhartha and Steppenwolf."—Publishers Weekly

"Hesse unerringly creates the feel of a fairy tale. . . . Lay readers will enjoy this as much as literary specialists."—Library Journal