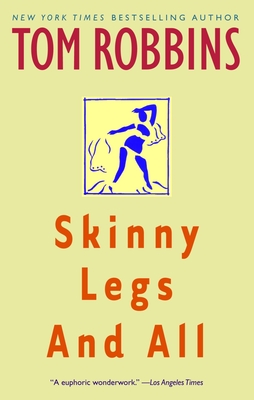 Skinny Legs and All
A Novel
Paperback

* Individual store prices may vary.
Description
An Arab and a Jew open a restaurant together across the street from the United Nations....

It sounds like the beginning of an ethnic joke, but it's the axis around which spins this gutsy, fun-loving, and alarmingly provocative novel, in which a bean can philosophizes, a dessert spoon mystifies, a young waitress takes on the New York art world, and a rowdy redneck welder discovers the lost god of Palestine--while the illusions that obscure humanity's view of the true universe fall away, one by one, like Salome's veils.

Skinny Legs and All deals with today's most sensitive issues: race, politics, marriage, art, religion, money, and lust.  It weaves lyrically through what some call the "end days" of our planet.  Refusing to avert its gaze from the horrors of the apocalypse, it also refuses to let the alleged end of the world spoil its mood.  And its mood is defiantly upbeat.

In the gloriously inventive Tom Robbins style, here are characters, phrases, stories, and ideas that dance together on the page, wild and sexy, like Salome herself.  Or was it Jezebel?
Praise For Skinny Legs and All: A Novel…
"Tom Robbins is a vital national treasure."—The Oregonian

"Robbins possesses magnet-like power."—USA Today

"Funny and tough...Robbins is an American Original."—Washington Magazine

Bantam, 9780553377880, 432pp.
Publication Date: November 1, 1995
About the Author
Tom Robbins has been called "a vital natural resource" by The Oregonian, "one of the wildest and most entertaining novelists in the world" by the Financial Times of London, and "the most dangerous writer in the world today" by Fernanda Pivano of Italy's Corriere della Sera. A Southerner by birth, Robbins has lived in and around Seattle since 1962.