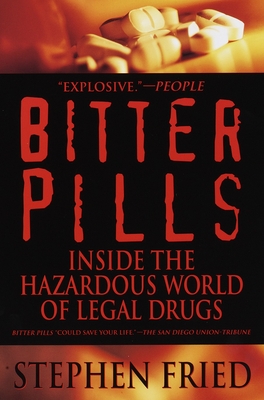 Bitter Pills (Paperback)
Bantam, 9780553378528, 450pp.
Publication Date: May 4, 1999
Description
We take our medicines on faith. We assume our doctors are well-informed, our drug companies scrupulous, our FDA diligent and our medications safe. All too often we're wrong. Just how wrong is documented in this critically acclaimed portrait of the international pharmaceutical industry by one of our most highly respected investigative journalists.
According to the Journal of the American Medical Association (JAMA), adverse drug reactions are the fourth leading cause of death in America. Reactions to prescription and over-the-counter medications kill far more people annually than all illegal drug use combined.
Stephen Fried's wife took a pill for a minor infection and ended up in the emergency room. Some drug reactions go away in a few hours or days. Diane's did not. This emotionally wrenching experience launched Fried into a five-year examination of the entire pharmaceutical industry, the most profitable legal business in the world. Rigorously documented, Bitter Pills is a full-scale portrait of pill making and pill taking in America today, presented through the powerful human drama of doctors, patients, drug companies, the FDA, and government regulators as they war for control of our medicine cabinets.
About the Author
Stephen Fried is an award-winning journalist and bestselling author, and an adjunct professor at Columbia University Graduate School of Journalism. He is the author of "Thing of Beauty: The Tragedy of Supermodel Gia" (the inspiration for the Emmy-winning film "Gia"), "Appetite for America: Fred Harvey and the Business of Civilizing the Wild West One Meal at a Time" (a "New York Times" bestseller featured in the PBS documentary "The Harvey Girls: Opportunity Bound"), "Bitter Pills: Inside the Hazardous World of Legal Drugs, The New Rabbi, " and the essay collection "Husbandry." He is also co-author, with Congressman Patrick J. Kennedy, of "A Common Struggle: A Personal Journey through the Past and Future of Mental Illness and Addiction." A two-time winner of the National Magazine Award, Fried has written frequently for "Vanity Fair, GQ, The Washington Post Magazine, Rolling Stone, Glamour, "and" Philadelphia" magazine. He lives in Philadelphia with his wife, author Diane Ayres. "From the Hardcover edition.""
Praise For Bitter Pills…
"Explosive."—People

" [Bitter Pills] could save your life."—San Diego Union-Tribune

"The best popular book I've read on the subject."—The New York Times Book Review

"Chilling...fascinating...poignant."—Newsday

"If you have concerns about drugs your family members have been prescribed or are taking over the counter, Bitter Pills will help make you a more informed consumer."—Rocky Mountain News

"One of the year's best books...startling...sobering."—Philadelphia Inquirer

"Absorbing...insightful...fascinating and often frightening." —Kirkus Reviews
Advertisement