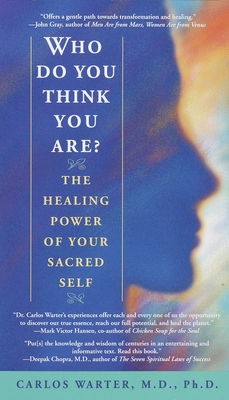 Who Do You Think You Are? (Paperback)
The Healing Power of Your Sacred Self
Bantam, 9780553378627, 256pp.
Publication Date: July 6, 1999
* Individual store prices may vary.
Description
Do you know who you are?

Dr. Carlos Warter, the esteemed physician, psychotherapist, and healer whose charismatic lectures and workshops around the world have led untold thousands to rediscover their essential selves, now shares his prescription for achieving physical health and emotional joy.

Do you know why you get sick?

In today's society, it is all too easy to believe that we are our outer identities--that we are spouse or lover, child or parent, worker or artist, victim or addict. But now Dr. Warter, drawing on the age-old wisdom of the world's major religions, his own illuminating life experiences, and his consultations with the Dalai Lama and other great spiritual leaders, shows that in order to heal, to become whole, to become ourselves, we must go beyond the small, self-constructed circles of identity that we assume each day. For it is our very attachment to these false, limiting personalities that leads to chronic stress and disease...while keeping us from recognizing our greatest treasure: our sacred selves.

In Who Do You Think You Are? Dr. Warter offers the tools--from Buddhist prayers to original meditations--that can help us reconnect with our authentic selves. And he presents the other profound precepts of his new model of healing. Discover:

why any transition--birth, illness, death, or, indeed, any kind of change--can be a springboard for personal and spiritual evolution
how combining the use of modern medicine and alternative therapies with the power of an open heart and divine love can bring us to a place of unconditional wellness
how living in the moment results in greater awareness, a reduction in stress, and the development of real self-esteem

Who Do You Think You Are? is an important new addition to the latest literature on the healing of the mind, body, and spirit--one that provides a major breakthrough in how we view the world, ourselves, and all humanity.
About the Author
Carlos Warter, M.D., Ph. D., is a trained medical doctor with Harvard postgraduate education, transpersonal psychotherapist, and the acclaimed author of Recovery of the Sacred.  Born in Chile, he has been awarded the United Nations Peace Messenger and the Pax Mundi awards for his humanitarian efforts.
Praise For Who Do You Think You Are?: The Healing Power of Your Sacred Self…
Advance Praise for Who Do You Think You Are?:

"Dr. Warter's book offers a gentle path towards transformation and healing. Through beautiful and practical visualizations, you will discover simple ways to open up your heart and allow your inner light to shine."
--John Gray, author of Men Are from Mars, Women Are from Venus

"Dr. Warter presents us with information that can help us live healthy, loving, and meaningful lives. This book contains a heartening message which can help you heal spiritually and physically."
--Jack Canfield, co-author of Chicken Soup for the Soul

"Dr. Warter has put the knowledge and wisdom of centuries in an entertaining and informative text. Read this book."
--Deepak Chopra, M.D., author of The Seven Spiritual Laws of Success

"This practical guide is destined to become a classic."
--Joan Borysenko, Ph.D., author of Minding the Body, Mending the Mind

"Dr. Carlos Warter has had the courage not only to make the outer journey traveling the globe to acquire wisdom, but also to make the inner journey, traveling within to acquire an even greater understanding about the real world. His book offers the results of these journeys to you, and I highly recommend it."
--Brian Weiss, M.D., author of Many Lives, Many Masters

"As a psychiatrist, medical doctor, and international teacher, Carlos Warter has a special perspective on the necessity of living an authentic life. His stories point to the joy and creativity that can happen when we truly function from our soul's essence."
--Carol Adrienne, co-author of The Celestine Prophecy: An Experiential Guide

"This is a profound book that leads to self-discovery; I highly recommend it."
--Stephan Rechtschaffen, M.D., President, Omega Institute, and author of Timeshifting

"An inspirational book that points the way to a peaceful society of souls."
--Senator Alan Cranston

"Dr. Carlos Warter serves as a guide in the inner territory. He has been there himself and he has also the clinical know-how to differentiate between just wishing to be awake and having woken up."
--Rabbi Zalman M. Schachter-Shalomi, author of From Age-ing to Sage-ing