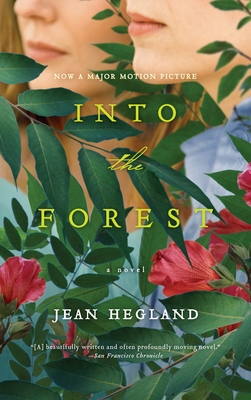 Into the Forest (Paperback)
A Novel
Dial Press Trade Paperback, 9780553379617, 256pp.
Publication Date: September 1, 1998
Other Editions of This Title:
Digital Audiobook (4/9/2015)
* Individual store prices may vary.
Description
NOW A MAJOR MOTION PICTURE • Set in the near-future, Into the Forest is a powerfully imagined novel that focuses on the relationship between two teenage sisters living alone in their Northern California forest home.

Over 30 miles from the nearest town, and several miles away from their nearest neighbor, Nell and Eva struggle to survive as society begins to decay and collapse around them. No single event precedes society's fall. There is talk of a war overseas and upheaval in Congress, but it still comes as a shock when the electricity runs out and gas is nowhere to be found. The sisters consume the resources left in the house, waiting for the power to return. Their arrival into adulthood, however, forces them to reexamine their place in the world and their relationship to the land and each other.

Reminiscent of Margaret Atwood's A Handmaid's Tale, Into the Forest is a mesmerizing and thought-provoking novel of hope and despair set in a frighteningly plausible near-future America.

Praise for Into the Forest

"[A] beautifully written and often profoundly moving novel."—San Francisco Chronicle

"A work of extraordinary power, insight and lyricism, Into the Forest is both an urgent warning and a passionate celebration of life and love."—Riane Eisler, author of The Chalice and the Blade

"From the first page, the sense of crisis and the lucid, honest voice of the . . . narrator pull the reader in. . . . A truly admirable addition to a genre defined by the very high standards of George Orwell's 1984."—Publishers Weekly (starred review)

"Beautifully written."—Kirkus Reviews

"This beautifully written story captures the essential nature of the sister bond: the fierce struggle to be true to one's own self, only to learn that true strength comes from what they are able to share together."—Carol Saline, co-author of Sisters

"Jean Hegland's sense of character is firm, warm, and wise. . . . [A] fine first novel."—John Keeble, author of Yellowfish
About the Author
Jean Hegland is the author of The Life Within: Celebration of a Pregnancy.  She lives with her husband and three children in northern California on fifty-five acres of second-growth forest.  She is at work on her next novel, which explores the issues of motherhood.
Praise For Into the Forest: A Novel…
"[A] beautifully written and often profoundly moving novel."—San Francisco Chronicle

"A work of extraordinary power, insight and lyricism, Into the Forest is both an urgent warning and a passionate celebration of life and love."—Riane Eisler, author of The Chalice and the Blade

"From the first page, the sense of crisis and the lucid, honest voice of the . . . narrator pull the reader in. . . . A truly admirable addition to a genre defined by the very high standards of George Orwell's 1984."—Publishers Weekly (starred review)

"Beautifully written."—Kirkus Reviews

"This beautifully written story captures the essential nature of the sister bond: the fierce struggle to be true to one's own self, only to learn that true strength comes from what they are able to share together."—Carol Saline, co-author of Sisters

"Jean Hegland's sense of character is firm, warm, and wise. . . . [A] fine first novel."—John Keeble, author of Yellowfish