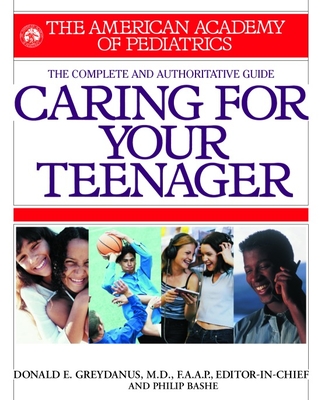 American Academy of Pediatrics Caring for Your Teenager (Paperback)
Bantam, 9780553379969, 624pp.
Publication Date: April 29, 2003
Description
Expert, authoritative guidance you can trust on helping your teenager cope with the changes and challenges of adolescence, from The American Academy of Pediatrics. The critical, life-shaping years between twelve and twenty-one have been called the "turbulent teens." But adolescence doesn't have to be a time of anxiety and upheaval--for either teenagers or their parents. In this comprehensive, down-to-earth guide, the nation's leading authority on the care of children helps parents and caregivers guide teenagers through the successful transition into young adulthood. Combining practical parenting advice with the latest medical, psychological, and scientific research, and covering every aspect of a teenager's growth and development, the American Academy of Pediatrics' Caring for Your Teenager offers indispensable information on: - The stages of adolescence--what defines normal physical, emotional, social, and intellectual development
- Setting rules and limits--helping teenagers grow into responsible adults
- The twelve building blocks of self-esteem--from feelings of security and belonging to decision making, pride, and trust
- Instilling values and strengthening family ties
- The problem of peer pressure: giving your child the confidence to handle it
- Hormones--easing teenagers' anxieties about their changing bodies
- Safeguarding your teenager from sexually transmitted diseases
- Adapting to different family types--from single-parent to adoptive to blended
- Helping your teenager cope with serious illness or death in the family, sibling rivalry, separation, or divorce Plus
- Helping your teenager find the right college--or make an alternative choice
- Teens, the Internet, and the law
- A comprehensive medical guide to common ailments . . . and much more Caring for Your Teenager is the one guide that no one entrusted with the care of a teenage child should be without--a book that provides parents with all the information they need to ensure that their child is on the right track to becoming a happy, healthy adult.
About the Author
Donald Greydanus is the director of the Pediatrics Residency Program at MSU/Kalamazoo. He has published extensively on adolescent health, including 150 book chapters and more than 200 articles. He has testified before Congress on corporal punishment. Philip Bashe has authored or coauthored 18 books and edited hundreds more. He has been the president of Basher Bookworks, Ltd. since 1987. In addition, he has worked as an editor at several national consumer magazines, as well as a writer for The New York Times Book Review, Buffalo Evening News, and other publications.
Advertisement