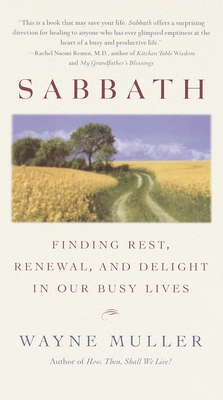 Sabbath (Paperback)
Finding Rest, Renewal, and Delight in Our Busy Lives
Bantam, 9780553380118, 256pp.
Publication Date: September 5, 2000
Other Editions of This Title:
Hardcover (4/6/1999)
CD-Audio (3/1/1999)
* Individual store prices may vary.
Description
In today's world, with its relentless emphasis on success and productivity, we have lost the necessary rhythm of life, the balance between work and rest. Constantly striving, we feel exhausted and deprived in the midst of great abundance. We long for time with friends and family, we long for a moment to ourselves.

Millennia ago, the tradition of Sabbath created an oasis of sacred time within a life of unceasing labor. Now, in a book that can heal our harried lives, Wayne Muller, author of the spiritual classic How, Then, Shall We Live?, shows us how to create a special time of rest, delight, and renewal--a refuge for our souls.

We need not even schedule an entire day each week. Sabbath time can be a Sabbath afternoon, a Sabbath hour, a Sabbath walk. With wonderful stories, poems, and suggestions for practice, Muller teaches us how we can use this time of sacred rest to refresh our bodies and minds, restore our creativity, and regain our birthright of inner happiness.

Praise for Sabbath

"Muller's insights are applicable within a broad spectrum of faiths and will appeal to a wide range of readers."—Publishers Weekly

"One of the best spiritual books of the year."—Spirituality and Health

"Wayne Muller's call to remember the Sabbath is not only rich, wise and poetic, it may well be the only salvation for body and soul in a world gone crazy with busyness and stress."—Joan Borysenko, author ofMinding the Body, Mending the Mind and A Woman's Book of Life

"This is a book that may save your life. Sabbath offers a surprising direction for healing to anyone who has ever glimpsed emptiness at the heart of a busy and productive life."—Rachel Naomi Remen, M.D., author of Kitchen Table Wisdom
About the Author
Wayne Muller is an ordained minister and therapist and founder of Bread for the Journey, an innovative organization serving families in need. A graduate of Harvard Divinity School, he is Senior Scholar at the Fetzer Institute and a Fellow of the Institute of Noetic Sciences. He also runs the Institute for Engaged Spirituality and gives lectures and retreats nationwide. He is the author of Legacy of the Heart, a New York Times bestseller, and How, Then, Shall We Live? He lives with his family in northern California.
Praise For Sabbath: Finding Rest, Renewal, and Delight in Our Busy Lives…
"Muller's insights are applicable within a broad spectrum of faiths and will appeal to a wide range of readers."—Publishers Weekly

"One of the best spiritual books of the year."—Spirituality and Health

"Wayne Muller's call to remember the Sabbath is not only rich, wise and poetic, it may well be the only salvation for body and soul in a world gone crazy with busyness and stress."—Joan Borysenko, author of Minding the Body, Mending the Mind and A Woman's Book of Life

"This is a book that may save your life. Sabbath offers a surprising direction for healing to anyone who has ever glimpsed emptiness at the heart of a busy and productive life."—Rachel Naomi Remen, M.D., author of Kitchen Table Wisdom