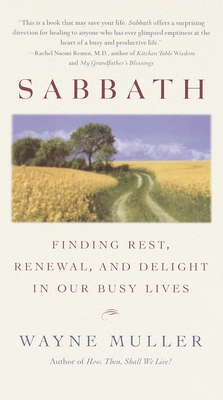 Sabbath: Finding Rest, Renewal, and Delight in Our Busy Lives (Paperback)
Finding Rest, Renewal, and Delight in Our Busy Lives
Bantam, 9780553380118, 256pp.
Publication Date: September 5, 2000
Description
Millennia ago, the tradition of sabbath created an oasis of sacred time within a life of unceasing labor. But in today's world, we have lost the necessary rhythm of life, the balance between work & rest, doing & not doing. Constantly striving, we feel exhausted & deprived in the midst of great abundance, longing for time with friends & family, longing for a moment to ourselves. Now, in a book that can heal our harried lives, Wayne Muller, author of the spiritual classic How, Then, Shall We Live? shows us how to create a special time of rest, delight, & renewal--a refuge for our souls. We need not even schedule an entire day each week. Sabbath time can be a sabbath afternoon, a sabbath hour, a sabbath walk. With wonderful stories, poems, & suggestions for practice, Muller teaches us how we can use this time of sacred rest to refresh our bodies & minds, restore our creativity, & regain our birthright of inner happiness. "Muller's insights are applicable within a broad spectrum of faiths & will appeal to a wide range of readers.
About the Author
Wayne Muller is an ordained minister and therapist and founder of Bread for the Journey, an innovative organization serving families in need. A graduate of Harvard Divinity School, he is Senior Scholar at the Fetzer Institute and a Fellow of the Institute of Noetic Sciences. He also runs the Institute for Engaged Spirituality and gives lectures and retreats nationwide. He is the author of Legacy of the Heart, a New York Times bestseller, and How, Then, Shall We Live? He lives with his family in northern California.
Praise For Sabbath: Finding Rest, Renewal, and Delight in Our Busy Lives…
"Muller's insights are applicable within a broad spectrum of faiths and will appeal to a wide range of readers."
-- Publishers Weekly

"One of the best spiritual books of the year."
-- Spirituality and Health

"Wayne Muller's call to remember the Sabbath is not only rich, wise and poetic, it may well be the only salvation for body and soul in a world gone crazy with busyness and stress."
-- Joan Borysenko, author of Minding the Body, Mending the Mind and A Woman's Book of Life

"This is a book that may save your life. Sabbath offers a surprising direction for healing to anyone who has ever glimpsed emptiness at the heart of a busy and productive life."
-- Rachel Naomi Remen, M.D., author of Kitchen Table Wisdom

Visit Bantam's website at www.bantamdell.com
Advertisement