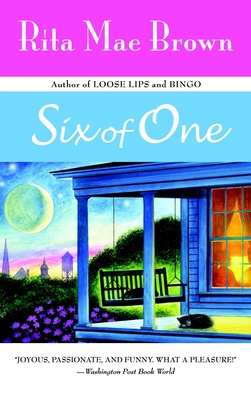 Six of One (Paperback)
Bantam, 9780553380378, 368pp.
Publication Date: July 6, 1999
Description
Perched right on the Mason-Dixon line, tiny Runnymede, Maryland, is ripe with a history almost as colorful as the women who live there--from Celeste Chalfonte, headstrong and aristocratic, who murders for principle and steals her brother's wife, to Fannie Jump Creighton, who runs a speakeasy right in her own home when hard times come knocking. Then of course, there're Louise and Julia, the boldly eccentric Hunsenmeir sisters. Wheezie and Juts spend their whole lives in Runnymede, cheerfully quibbling about everything from men to child-rearing to how to drive a car. But they never let small-town life keep them from chasing their biggest dreams--or from being true to who they really are. Sparkling with a perfect combination of sisterhood and sass, Six of One is a richly textured Southern canvas--Rita Mae Brown "at her winning, fondest best"(Kirkus Reviews).
About the Author
Rita Mae Brown is the bestselling author of the Sneaky Pie Brown series; the Sister Jane series; A Nose for Justice and Murder Unleashed; Rubyfruit Jungle; In Her Day; and Six of One, as well as several other novels. An Emmy-nominated screenwriter and a poet, Brown lives in Afton, Virginia.
Praise For Six of One…
"It's like listening to Virginia Woolf and her pals gossiping and philosophizing."—Glamour

"Brown has some of the same effervescent yet secure trust in her local characters that Eudora Welty feels for hers...when history nicks them, they slap right back."—Kirkus Reviews

"A lively and very lovely book."—Publishers Weekly

No matter how quirky or devilish, Brown's people cavort in an atmosphere of tenderness....It is refreshing to encounter this celebration of human energy." —Chicago Sun-Times


Advertisement