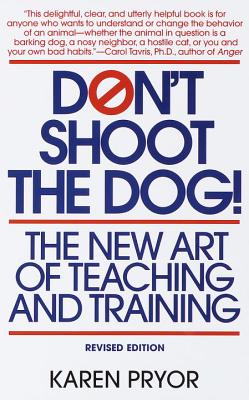 Don't Shoot the Dog: The New Art of Teaching and Training (Paperback)
The New Art of Teaching and Training
Bantam Books, 9780553380392, 224pp.
Publication Date: August 3, 1999
Description
A Better Way to Better Behavior Karen Pryor's clear and entertaining explanation of behavioral training methods made Don't Shoot the Dog a bestselling classic. Now this revised edition presents more of her insights into animal--and human--behavior. A groundbreaking behavioral scientist and dynamic animal trainer, Karen Pryor is a powerful proponent of the principles and practical uses of positive reinforcement in teaching new behaviors. Here are the secrets of changing behavior in pets, kids--even yourself--without yelling, threats, force, punishment, guilt trips...or shooting the dog: -The principles of the revolutionary "clicker training" method, which owes its phenomenal success to its immediacy of response--so there is no question what action you are rewarding
-8 methods of ending undesirable habits--from furniture-clawing cats to sloppy roommates
-The 10 laws of "shaping" behavior-for results without strain or pain through "affection training"
-Tips for house-training the dog, improving your tennis game, or dealing with an impossible teen
-Explorations of exciting new uses for reinforcement training Learn why pet owners rave, "This book changed our lives " and how these pioneering techniques can work for you too.
About the Author
Karen Pryor is a pioneer in the development of force-free training methods, and one of the leading proponents of operant conditioning. Karen continues to have an enormous influence in the animal training field, and is much admired for her influential body of work and generous spirit. She is based in Massachusetts.
Praise For Don't Shoot the Dog: The New Art of Teaching and Training…
"This delightful, clear, and utterly helpful book is for anyone who wants to understand or change the behavior of an animal—whether the animal in question is a barking dog, a nosy neighbor, a hostile cat, or you and your own bad habits."—Carol Tavris, Ph.D., author of Anger
Advertisement