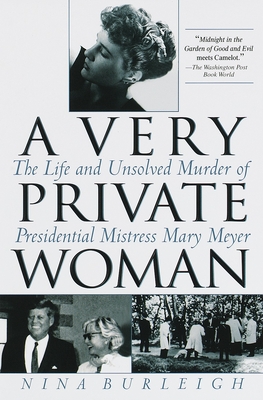 A Very Private Woman: The Life and Unsolved Murder of Presidential Mistress Mary Meyer (Paperback)
The Life and Unsolved Murder of Presidential Mistress Mary Meyer
Bantam, 9780553380514, 380pp.
Publication Date: October 5, 1999
Description
In 1964, Mary Pinchot Meyer, the beautiful, rebellious, and intelligent ex-wife of a top CIA official, was killed on a quiet Georgetown towpath near her home. Mary Meyer was a secret mistress of President John F. Kennedy, whom she had known since private school days, and after her death, reports that she had kept a diary set off a tense search by her brother-in-law, newsman Ben Bradlee, and CIA spymaster James Jesus Angleton. But the only suspect in her murder was acquitted, and today her life and death are still a source of intense speculation, as Nina Burleigh reveals in her widely praised book, the first to examine this haunting story.
About the Author
Nina Burleigh's articles have appeared in Time, The Washington Post, The Chicago Tribune, and New York Magazine. She lives in New York.
Praise For A Very Private Woman: The Life and Unsolved Murder of Presidential Mistress Mary Meyer…
"Midnight in the Garden of Good and Evil meets Camelot."—Washington Post Book World

"Power is so utterly fascinating. Sometimes it's used for evil purposes, like the kind of power that has silenced the telling of Mary Pinchot Meyer's mysterious murder for over three decades. In A Very Private Woman, Nina Burleigh has finally told this tragic tale of a privileged beauty with friends in high places."—Dominick Dunne

"A superbly crafted, evocative glimpse of an adventurous spirit whose grisly murder remains a mystery."—San Francisco Chronicle Book Review

"Proves that every Washington sex scandal is juicy in its own way."—Glamour

"Nina Burleigh has dissected Washington's most intriguing murder mystery and produced a captivating biography, a thriller, and an insightful portrait of Georgetown in its golden presidential age."—Christopher Ogden, bestselling author of Life of the Party: The Life of Pamela Digby Churchill Hayward Harriman

"Provocative, erudite...pure Georgetown noir."—New York Observer

"A rich array of real-life characters." —New York Times Book Review
Advertisement