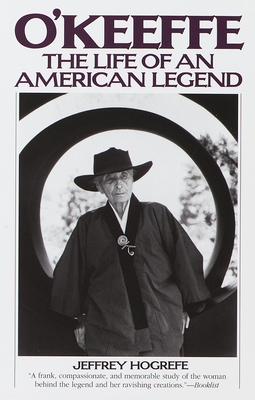 O'Keeffe
The Life of an American Legend
Paperback

* Individual store prices may vary.
Description
One of this century's most beloved and celebrated artists, Georgia O'Keeffe transmitted her most intimate feelings onto her canvases. But the details of her private life were zealously guarded, leaving the world to wonder: What was the inspiration, and the impetus, for her sexually charged flower paintings? What was the nature of her relationship with her much older husband, photographer Alfred Stieglitz? Why did she lie about her past and hide herself from her public?

Journalist and author Jeffrey Hogrefe discloses the answers to these questions and more in O'Keeffe, a richly detailed biography that illuminates much of the mystery and intrigue that surround Georgia O'Keeffe, and finally reveals the real woman behind the legend. Hogrefe's encounter with the ninety-three-year-old artist and with Juan Hamilton, the young man she loved in her final years, provided him with unique insights into her private world, as well as into Hamilton's own controversial relationship with O'Keeffe during the last fourteen years of her life.

Her acerbic personality, her unconventional lifestyle, and her struggles as an artist and a woman are brought to life in this definitive biography.
Praise For O'Keeffe: The Life of an American Legend…
"A frank, compassionate, and memorable study of the woman behind the legend and her ravishing creations."
--Booklist

"This engrossing biography of Georgia O'Keeffe sweeps away myths and legends....a remarkable piece of detective work."
--Publishers Weekly

"Hogrefe manages to be both fair and compassionate in his treatment of a difficult woman--who also happens to be one of our most dazzling national treasures."
--Edmund White

"A historic, in-depth study of what it means to risk one's life to be an artist. It is also a depiction of sexual confusions, ironic outrage and rage, and the shedding of society's armor to create a female knight in pursuit of a vision. Georgia O'Keeffe is the one woman who was there first in the world of art."
--Sandra Hochman
Bantam, 9780553380699, 448pp.
Publication Date: December 1, 1999