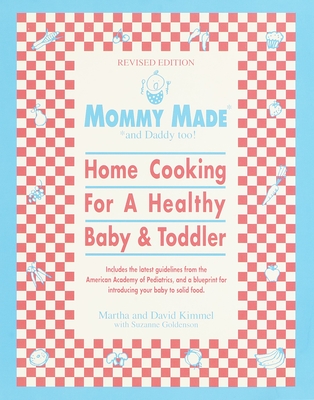 Mommy Made and Daddy Too! (Revised): Home Cooking for a Healthy Baby & Toddler (Paperback)
Home Cooking for a Healthy Baby & Toddler
Bantam, 9780553380903, 336pp.
Publication Date: June 6, 2000
Description
Everyone loves a home-cooked meal--even babies and toddlers Experts agree that homemade baby food is the healthiest way to feed young children. By making their own baby food, parents can drastically reduce the sugar, salt, artificial colors, fillers, additives, and preservatives in their child's diet. And now making baby food from scratch has never been easier--with this practical, user-friendly cookbook by Martha and David Kimmel, founders of the phenomenally successful Mommy Made* line of baby and toddler food. Updated for a special 10th anniversary edition, Mommy Made* is filled with 140 easy-to-make recipes that are perfect for introducing your baby to wholesome solid foods. These delicious, kid-tested dishes--which include finger foods, shakes and smoothies, snacks on the go, spoonable treats, and a variety of table dishes--were created with your baby's special nutritional needs in mind, and will help your child establish healthful eating habits that will last a lifetime. Mommy Made* also includes: Nutrition advice from birth to three years--incorporating guidelines from the American Academy of Pediatrics A blueprint for when and how to get your baby started on solid food Answers to parents' most frequently asked questions: from milk and protein needs to determining portion size, preventing "hunger strikes," and detecting food allergies Tips on pureeing, straining, and mashing, as well as storage, thawing and reheating, and using the microwave A handy nutrition glossary, food pyramid, and list of helpful websites And much more.
About the Author
Martha Grau Kimmel obtained her master's degree in guidance and counseling with a special emphasis on early childhood development from the University of South Florida. Martha is an instructor at the New School for Social Research in New York City, where she teaches her nationally renowned Mommy Made cooking class. Martha has also developed and teaches "Yummy In My Tummy," a hands-on cooking experience exploring the world through food, and "What's Up With Food," an interactive presentation where kids compare their favorite foods through the study of their food labels. Martha also teaches her classes privately and continues her speaking engagements nationwide. In the most simple terms, Martha is the Mommy. David Kimmel spends his time overseeing his food and beverage operations in Rockland County, New York, helping as many of the not-for-profit organizations in his community as he can, importing fresh fruit and wine from Argentina, and most important, loving his two daughters and wife each step of the way. David is an honors graduate of The Culinary Institute of America, where he has also served as an instructor and member of their Board of Trustees. Suzanne Kimmel Goldenson is not only Teddi and Renee's aunt but a Princeton, New Jersey, based author and book publisher. Suzanne has worked as a restaurant critic, and she has written numerous books, primarily on food and wine, including The Open Hearth Cookbook and Vintage Places: A Connoisseur's Guide to North American Vineyards and Wineries. She is also the president and founder of Golden Sun Books, which publishes guides to leisure activities. She is married to Daniel R. Goldenson, and they are the parents of two grown sons, Andy and Jeff, who were, of course, raised on fresh food from the start!
Advertisement