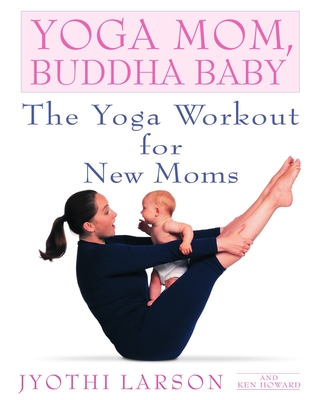 Yoga Mom, Buddha Baby: The Yoga Workout for New Moms (Paperback)
The Yoga Workout for New Moms
Bantam, 9780553380934, 272pp.
Publication Date: April 23, 2002
Description
S-T-R-E-T-C-H, STRENGTHEN, AND MEDITATE--WITH YOUR BABY
Practicing yoga with your baby--as you hold your baby, have your baby next to you, or have your baby leaning against your thighs or atop your belly--is a wonderful way to add joy to your first year together. Popular yoga teacher Jyothi Larson shares the specially adapted yoga poses she has taught to hundreds of moms and their -Buddha babies, - her term for the happy and calm babies in her classes.
Whether you are new to yoga or an experienced student, whatever shape you are in, you are in the perfect place to practice yoga. In this beautifully illustrated book with easy-to-follow instructions, Larson presents twenty routines that help you get back in shape faster as you bond with your baby. Included are:
- prenatal yoga, with a focus on the last trimester
- what to do after birth through the first six weeks, with special poses for women who have had C-sections
- modified yoga poses that respect your changing post-pregnancy body and give all of yoga's benefits--stretching, strengthening, and relaxing
- fun yoga moves that encourage your baby's natural flexibility and growth
- breathing and relaxation exercises as well as partner postures
and much more
Experience the joy of yoga while bonding with your baby.
About the Author
Jyothi Larson teaches hundreds of moms and babies prenatal and postpartum yoga at her popular mother and baby yoga classes, which she has been leading for ten years. She has studied yoga for more than twenty years and holds advanced teacher certification in hatha yoga from the Integral Yoga Institute in New York City. She also teaches at Healing Works, Soho Sanctuary, and Yoga People. Her two daughters, Rachel and Mikela, do beautiful sun salutes and downward-facing dogs. Ken Howard is a journalist who writes about science, medicine and technology. He has been practicing yoga for ten years.
Praise For Yoga Mom, Buddha Baby: The Yoga Workout for New Moms…
"I loved the ritual of going to Jyothi's yoga classes…I felt like I was doing something not only for myself but for my baby as well. Jyothi is an amazing person and an incredibly talented and nurturing instructor."
-–Ricki Lake


"Combines clear, accessible instructions with appropriate cautions and a winning, expansive attitude, all of which makes for a wonderfully inviting and useful guide to yoga."
--Yoga Journal


"[A] fun way for mother and baby to bond while becoming more flexible and strong."
–Body & Soul

Advertisement