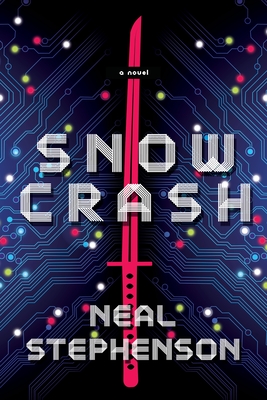 Snow Crash
A Novel
Paperback

* Individual store prices may vary.
Other Editions of This Title:
Hardcover (11/22/2022)
MP3 CD (4/15/2014)
Compact Disc (9/25/2012)
Description
The "brilliantly realized" (The New York Times Book Review) breakthrough novel from visionary author Neal Stephenson, a modern classic that predicted the metaverse and inspired generations of Silicon Valley innovators

Hiro lives in a Los Angeles where franchises line the freeway as far as the eye can see. The only relief from the sea of logos is within the autonomous city-states, where law-abiding citizens don't dare leave their mansions.

Hiro delivers pizza to the mansions for a living, defending his pies from marauders when necessary with a matched set of samurai swords. His home is a shared 20 X 30 U-Stor-It. He spends most of his time goggled in to the Metaverse, where his avatar is legendary.

But in the club known as The Black Sun, his fellow hackers are being felled by a weird new drug called Snow Crash that reduces them to nothing more than a jittering cloud of bad digital karma (and IRL, a vegetative state).

Investigating the Infocalypse leads Hiro all the way back to the beginning of language itself, with roots in an ancient Sumerian priesthood. He'll be joined by Y.T., a fearless teenaged skateboard courier. Together, they must race to stop a shadowy virtual villain hell-bent on world domination.
Praise For Snow Crash: A Novel…
"One of the most popular sci-fi books of all time . . . It stands as a foundational text of the cyberpunk movement."—Wired

"Stephenson's cult classic has become canon in Silicon Valley, where a host of engineers, entrepreneurs, futurists, and assorted computer geeks . . . still revere Snow Crash as a remarkably prescient vision of today's tech landscape."—Vanity Fair

"Hip, surreal, distressingly funny . . . Neal Stephenson is a crafty plotter and a wry writer."—The Des Moines Register

"[Snow Crash] not only made the name of its author Neal Stephenson, it elevated him to the status of a technological Nostradamus."—Open Culture

"A cross between Neuromancer and Thomas Pynchon's Vineland . . . This is no mere hyperbole."—The San Francisco Bay Guardian

"Fast-forward free-style mall mythology for the twenty-first century."—William Gibson
Del Rey, 9780553380958, 576pp.
Publication Date: May 2, 2000
About the Author
Neal Stephenson is the author of New York Times bestsellers including The Diamond Age, Zodiac, Cryptonomicon, Quicksilver, The Confusion, The System of the World, REAMDE, Anathem, Seveneves, Fall: or Dodge in Hell, and Termination Shock, as well as nonfiction works such as In The Beginning . . . Was the Command Line. He has worked for Blue Origin and Magic Leap, and more recently co-founded Lamina1, a startup creating an open metaverse platform.