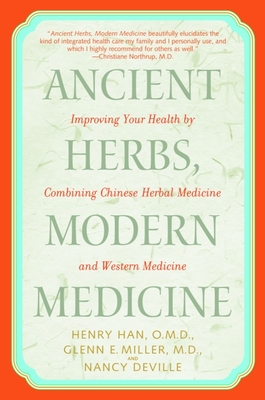 Ancient Herbs, Modern Medicine: Improving Your Health by Combining Chinese Herbal Medicine and Western Medicine (Paperback)
Improving Your Health by Combining Chinese Herbal Medicine and Western Medicine
Bantam, 9780553381184, 496pp.
Publication Date: January 1, 2003
Description
The best of Eastern and Western medicine in an integrative healing system for the mind, body, and spirit. Now, for the first time, a Western physician and a doctor of Oriental medicine combine the unparalleled technological advances of the West with the unmatched wisdom and healing touch Chinese herbal medicine provides for many diseases and conditions that elude modern medicine. Ancient Herbs, Modern Medicine demonstrates the many important, highly effective ways Chinese medicine and Western medicine can complement each other in treating everything from allergies and insomnia to mental illness and cancer. This accessible, comprehensive guide offers many informative and enlightening case studies and up-to-the-minute information on: - How integrative medicine combines the best of Western pharmacology and Eastern herbology - How integrative medicine helps fight the diseases and illnesses of our time, including allergies, asthma, and chronic fatigue syndrome, and eases and even reverses symptoms of arthritis, diabetes, depression, osteoporosis, AIDS, heart disease, and cancer--often without side effects - How Chinese medicine can help you recognize signs before an illness
becomes a crisis - The importance of Western techniques in diagnosing serious diseases - Why Chinese medicine offers the most effective treatment for many chronic/recurrent illnesses - Restoring essential balance to the Five Energetic Systems--the Heart, Lung, Spleen, Liver, and Kidney Energies - The Eight Strategies of Herbal Therapy--how herbs work in your body Plus illuminating discussions of the basic principles of Chinese medicine, as well as food remedy recipes, diagrams, glossaries of medical terms and herbs, resource listings, and much more to help you tailor an integrative health regimen that is right for you.
About the Author
Henry Han, OMD, was born in 1958 into a family of doctors in China. His mother was a surgical/oncological gynecologist, his father a dermatologist, and his grandfather a Chinese herbalist. Dr. Han's pre-college education was mostly self-taught. At the age of eight, during China's Cultural Revolution, he was separated from his parents and sister. Unable to go to school, he continued his education on his own. The Cultural Revolution officially ended in 1976 with the death of Chairman Mao, and Dr. Han was admitted to the prestigious Beijing University of Chinese Medicine. From 1983 to 1985, he did a residency program in internal medicine in Beijing Dong Zhi Men Hospital, which specializes in the integration of Chinese and Western medicine. In September 1985, he was awarded one of two government scholarships to study psychology at the graduate level in the United States. Until June 1988, he studied clinical psychology and cognitive science at the University of California, and entered private practice in March 1989. He founded the Santa Barbara Herb and Wellness Center in 1998 and the Santa Barbara Herb Clinic in 1991. Over the years, Dr. Han treated thousands of patients and was recognized as a master herbalist and diagnostician. He had a reputation for treating difficult and complex cases, and his practice attracted patients from all over the United States as well as from other countries. He frequently gave talks and lectures and served as an advisory or scientific board member of several companies. He died in 2016. Glenn Miller, MD, was born, raised, and educated in the Midwest. Raised in a family of pharmacists, Dr. Miller has spent more than 20 years developing and implementing professional and business models for a variety of medical and pharmaceutical ventures, as well as maintaining a private medical practice. He serves on the board of directors of Body Trends Health and Fitness, Inc.; chairs the professional advisory board of Desert Health Products, Inc., a Scottsdale, Arizona-based multinational nutriceutical company; has been a consultant to the US Department of Justice, Bureau of Prisons; has held an academic appointment with the University of California-Santa Barbara Graduate School of Education; and has served as an appointee of California governor Pete Wilson from 1994 to 1997. Dr. Miller received a BS in pharmacy with a minor in business administration from Drake University in 1978, and an MD from the University of Illinois College of Medicine in 1983, followed by a four-year residency at Northwestern University, McGaw Medical Center. He is a diplomate of the American Board of Psychiatry and Neurology. Nancy Deville is the co-author of numerous health books. She lives in Santa Barbara, California, and Essex, Massachusetts.
Praise For Ancient Herbs, Modern Medicine: Improving Your Health by Combining Chinese Herbal Medicine and Western Medicine…
"A valuable alternative perspective on health and illness."
--Ted J. Kaptchuk, O.M.D., author of The Web That Has No Weaver: Understanding Chinese Medicine

"I have personally benefited from Chinese herbal medicine under the care of Dr. Henry Han. This book shows how crucial integrative medicine can be in treating a whole host of illnesses and in getting healthy and staying well."
--Jack Canfield, co-author of the Chicken Soup for the Soul series
Advertisement