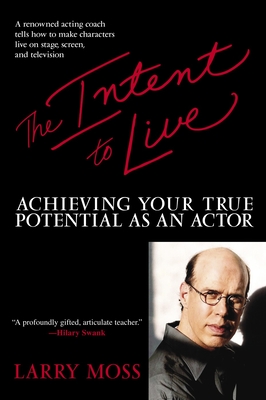 The Intent to Live
Achieving Your True Potential as an Actor
Paperback

* Individual store prices may vary.
Description
"I call this book The Intent to Live because great actors don't seem to be acting, they seem to be actually living."
–Larry Moss, from the Introduction

When Oscar-winning actors Helen Hunt and Hilary Swank accepted their Academy Awards, each credited Larry Moss's guidance as key to their career-making performances. There is a two-year waiting list for his advanced acting classes. But now everyone–professionals and amateurs alike–can discover Moss's passionate, in-depth teaching.

Inviting you to join him in the classroom and onstage, Moss shares the techniques he has developed over thirty years to help actors set their emotions, imagination, and behavior on fire, showing how the hard work of preparation pays off in performances that are spontaneous, fresh, and authentic.

From the foundations of script analysis to the nuances of physicalization and sensory work, here are the case studies, exercises, and insights that enable you to connect personally with a script, develop your character from the inside out, overcome fear and inhibition, and master the technical skills required for success in the theater, television, and movies.

Far more than a handbook, The Intent to Live is the personal credo of a master teacher. Moss's respect for actors and love of the actor's craft enliven every page, together with examples from a wealth of plays and films, both current and classic, and vivid appreciations of great performances. Whether you act for a living or simply want a deeper understanding of acting greatness, The Intent to Live will move, instruct, and inspire you.
Praise For The Intent to Live: Achieving Your True Potential as an Actor…
"I love the work I've gotten to do with Larry. He loves actors, he loves acting, and I love him."
–Helen Hunt

"Larry Moss is probably the most knowledgeable, articulate, creative, compassionate teacher of acting in America today. He is solely responsible for transforming me from a talented person into an artist."
–Jason Alexander

"Larry has an uncompromising dedication to the art and craft of acting. I wouldn't take on another role without working with him."
–Hilary Swank

"Larry is pure genius. He opened my heart and allowed me to feel again. I would not have been able to be John Coffey without him."
–Michael Clarke Duncan
Bantam, 9780553381207, 368pp.
Publication Date: December 27, 2005
About the Author
Larry Moss studied his craft with such luminaries as Stella Adler, Sanford Meisner, and Warren Robertson. He began his career at New York's famed cabaret Upstairs at the Downstairs and went on to appear on Broadway in numerous productions. After teaching at Juilliard and Circle in the Square, Moss returned to Los Angeles and founded the Larry Moss Studio in 1990. His directing credits include the off-Broadway hit The Syringa Tree, which won the 2001 Obie for Best Play of the Year, and a new play opening on Broadway in spring 2005.