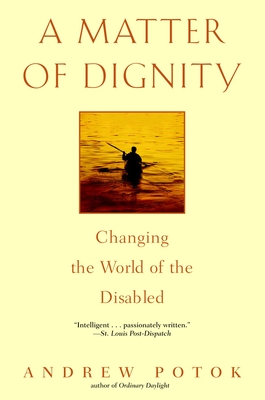 A Matter of Dignity: Changing the World of the Disabled (Paperback)
Changing the World of the Disabled
Bantam, 9780553381245, 320pp.
Publication Date: February 1, 2003
Description
From A Matter of Dignity I realized that I needed to learn about the legislative and legal aspects of disability as much as I did about our feelings regarding wholeness, beauty and ugliness, about the state called normalcy, about liberating technologies and therapies, about the role of the disabled in history and literature. And what could better inform and enlighten me than contact with people who help create access, who elicit change via care, support, teaching, and study as their life's work? As it turned out, I have learned from them that, in spite of the American addiction to youthfulness, "normalcy," virility, activity, and physical beauty, diversity in all its forms provides not only fascination but strength. Diversity tends toward higher forms, uniformity toward dullness and extinction. What could make more sense than to value all that is diverse, unexpected, and exuberantly impure? From the Hardcover edition.
About the Author
Andrew Potok, a painter and a writer, is the author of Ordinary Daylight: Portrait of the Artist Going Blind; My Life with Goya, a novel; and A Matter of Dignity: Changing the World of the Disabled. He lives in Vermont.
Praise For A Matter of Dignity: Changing the World of the Disabled…
"Covering medical, legal and psychological issues in depth and with intellectual vigor, the most provocative of Potok's work is his examination 'about our feelings regarding wholeness, beauty, and ugliness [and] about the state called normalcy,' making the book less about changing the world of the disabled than about in re-imagining the world in which we all live."
— Publishers Weekly
Advertisement