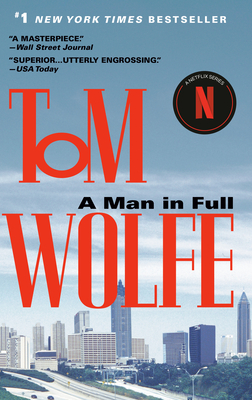 A Man in Full
Paperback

* Individual store prices may vary.
Other Editions of This Title:
Digital Audiobook (7/16/2018)
Digital Audiobook (7/4/2000)
Hardcover (11/12/1998)
Description
The setting is Atlanta, Georgia — a racially mixed, late-century boomtown full of fresh wealth and wily politicians. The protagonist is Charles Croker, once a college football star, now a late-middle-aged Atlanta conglomerate king whose outsize ego has at last hit up against reality. Charlie has a 29,000 acre quail-shooting plantation, a young and demanding second wife, and a half-empty office complex with a staggering load of debt.

Meanwhile, Conrad Hensley, idealistic young father of two, is laid off from his job at the Croker Global Foods warehouse near Oakland and finds himself spiraling into the lower depths of the American legal system.

And back in Atlanta, when star Georgia Tech running back Fareek "the Canon" Fanon, a homegrown product of the city's slums, is accused of date-raping the daughter of a pillar of the white establishment, upscale black lawyer Roger White II is asked to represent Fanon and help keep the city's delicate racial balance from blowing sky-high.

Networks of illegal Asian immigrants crisscrossing the continent, daily life behind bars, shady real estate syndicates — Wolfe shows us contemporary America with all the verve, wit, and insight that have made him our most admired novelist. Charlie Croker's deliverance from his tribulations provides an unforgettable denouement to the most widely awaited, hilarious and telling novel America has seen in ages — Tom Wolfe's most outstanding achievement to date.
Praise For A Man in Full…
#1 New York Times bestseller

"A masterpiece."—The Wall Street Journal

"Superior . . . utterly engrossing."—USA Today

"The novel contains passages as powerful and as beautiful as anything written — not merely by contemporary American novelists but by any American novelist. . . . The book is as funny as anything Wolfe has ever written; at the same time it is also deeply, strangely affecting."—The New York Times Book Review

"Wolfe is a peerless observer, a fearless satirist, a genius in full."—People


Also by Tom Wolfe:

The Bonfire of the Vanities
The Electric Kool-Aid Acid Test
From Bauhaus to Our House
The Kandy-Kolored Tangerine-Flake Streamline Baby
The Painted Word
The Right Stuff
Mauve Gloves & Madmen
Clutter & Vine
In Our Time
The Pumphouse Gang
Radical Chic & Mau-Mauing the Flak Catchers

Available wherever Bantam Books are sold
Dial Press Trade Paperback, 9780553381337, 704pp.
Publication Date: October 30, 2001
About the Author
Tom Wolfe's numerous books include The Electric Kool-Aid Acid Test, The Right Stuff, From Bauhaus to Our House, The Bonfire of the Vanities, A Man in Full, and I Am Charlotte Simmons. He died in 2018.