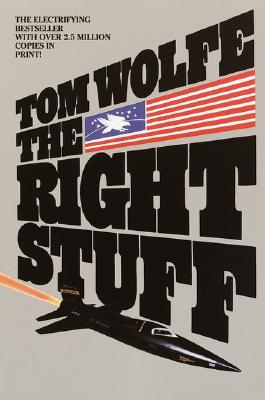 The Right Stuff
Paperback

* Individual store prices may vary.
Description
When the future began...

The men had it. Yeager. Conrad. Grissom. Glenn. Heroes ... the first Americans in space ... battling the Russians for control of the heavens ... putting their lives on the line.

The women had it. While Mr. Wonderful was aloft, it tore your heart out that the Hero's Wife, down on the ground, had to perform with the whole world watching ... the TV Press Conference: "What's in your heart? Do you feel with him while he's in orbit?"

The Right Stuff. It's the quality beyond bravery, beyond courage. It's men like Chuck Yeager, the greatest test pilot of all and the fastest man on earth. Pete Conrad, who almost laughed himself out of the running. Gus Grissom, who almost lost it when his capsule sank. John Glenn, the only space traveler whose apple-pie image wasn't a lie.
Praise For The Right Stuff…
"An exhilarating flight into fear, love, beauty and fiery death ... magnificent."
— People

"It is Tom Wolfe at his very best ... technically accurate, learned, cheeky, risky, touching, tough, compassionate, nostalgic, worshipful, jingoistic — The Right Stuff is superb."
— The New York Times Book Review

"Breathtaking ... epic ... There are images and ideas in The Right Stuff that glisten like a rocket screaming to the heavens."
— Los Angeles Times

"Romantic and thrilling ... One of the most romantic and thrilling books ever written about men who put themselves in peril."
— The Boston Globe

"It's magic ... the best book I have read in the last ten years."
— Chicago Tribune


Also by Tom Wolfe:

The Bonfire of the Vanities
The Electric Kool-Aid Acid Test
From Bauhaus to Our House
The Kandy-Kolored Tangerine-Flake Streamline Baby
The Painted Word
The Right Stuff
Mauve Gloves & Madmen
Clutter & Vine
In Our Time
The Pumphouse Gang
Radical Chic & Mau-Mauing the Flak Catchers

Available wherever Bantam Books are sold
Bantam, 9780553381351, 368pp.
Publication Date: October 30, 2001
or
Not Currently Available for Direct Purchase