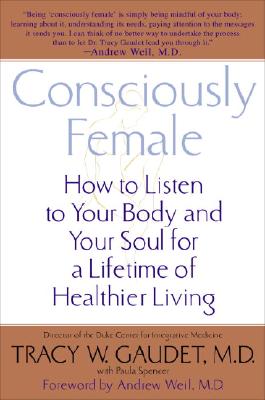 Consciously Female: How to Listen to Your Body and Your Soul for a Lifetime of Healthier Living (Paperback)
How to Listen to Your Body and Your Soul for a Lifetime of Healthier Living
Bantam, 9780553381863, 448pp.
Publication Date: December 28, 2004
* Individual store prices may vary.
or
Not Currently Available for Direct Purchase
Description
In this revolutionary new book, Dr. Tracy Gaudet, director of the Duke Center for Integrative Medicine, shares her remarkable vision of a new way of looking at self and wellness, which will change the way women think about their bodies, their health, and their lives.
Through her own personal journey as well as her work with thousands of women as an Ob-Gyn, Dr. Gaudet knows that being able to tap into the spiritual, emotional, and cyclical realities of female life has a powerful effect on health and well-being. Yet she has found that many women are "unconscious" of the intimate connections between these realms. Now Dr. Gaudet explains to women how to reconnect their bodies and their souls, in order to become "consciously female." Using her experience in integrative medicine, which draws on the best of both alternative and conventional Western practices, she offers mind-body techniques that will give you a deeper understanding of the inner workings of your body, and access to your unique feminine wisdom.
By helping you make the best possible choices to support your health and wellness, the process of becoming "consciously female" will enrich and empower your life, day to day, week to week, year to year.
From the Hardcover edition.
About the Author
Tracy W. Gaudet, M.D., is Executive Director of the Duke Center for Integrative Medicine at the Duke University School of Medicine. The author of the highly acclaimed Consciously Female, Dr. Gaudet is a practicing, board-certified ob-gyn and the founding executive director of Dr. Andrew Weil's Program in Integrative Medicine at the University of Arizona. She lives with her son Ryan in Durham, North Carolina. Paula Spencer is a freelance writer whose eight books include The V Book and Momfidence!: An Oreo Never Killed Anybody and Other Secrets of Happier Parenting. Author of the "Momfidence!" column in Woman's Day, she is also a contributing editor to Parenting and Baby Talk. She lives with her husband and four children in Chapel Hill, North Carolina. From the Hardcover edition.
Praise For Consciously Female: How to Listen to Your Body and Your Soul for a Lifetime of Healthier Living…
"Tracy Gaudet has written a fabulous book about what it means to be Consciously Female. It's loaded with consciousness-enhancing information guaranteed to make the experience of being female healthier and happier than ever before."
—Christiane Northrup, M.D., bestselling author of Women's Bodies, Women's Wisdom, and The Wisdom of Menopause

"Dr.Tracy Gaudet is the sort of doctor that every woman wants. Her unique approach to women's medicine blends the wide expertise of an integrative medicine physician with the deep insight and personal understanding only one woman can offer another. In Consciously Female, she shows us how to untangle the net of mind, body, emotions and spirit and weave it into a fabric far stronger than we have ever dreamed. If you are a woman, you owe it to yourself to read this one."
—Rachel Naomi Remen, M.D., bestselling author of Kitchen Table Wisdom and My Grandfather's Blessings

"This book is about waking up, becoming conscious of not only our body but our mind and spirit as well. It is about using deep intuition along with rational discernment to make smart choices about our health. Let us be grateful for the blessings of scientific medicine, but let us also honor the holistic approach to health and healing that lie at the heart of Dr. Gaudet's elegant medical vision."
—Larry Dossey, MD, Healing Beyond the Body, Reinventing Medicine, and Healing Words

Advertisement